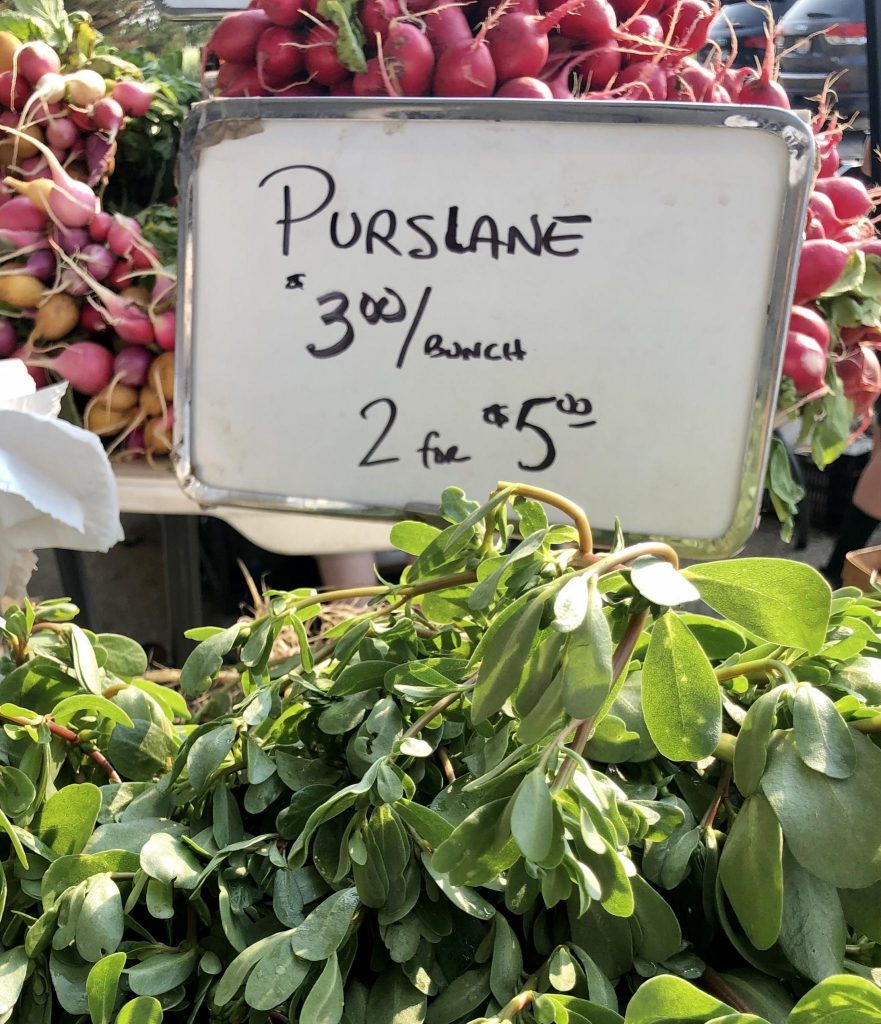 Purslane is at the Oakland County Farmers Market right NOW!
Found in moist garden beds, lawns and shady areas and even in the cracks in your driveway, purslane is a sprawling succulent!  A Super-Weed with the highest amount of omega-3 fatty acid of any green leafy plant examined!
Purslane lies close to the ground and is incredibly healthy! I love getting it from the farmers market and making a big wild salad!  Here's a recipe link for a salad I taught in my WILD EDIBLES CLASS 🙂  Purslane Tabbouleh
More ways to use purslane:
It can be used in stir-frys
To thicken soups or stews
Can be pickled for later use
Use yellow flower buds in salads
Other Interesting Facts:
All parts are edible except the root
Known to thrive in poor soils and is drought tolerant
Said to originate in India and known as one of Gandhi's favorite foods
Highest omega-3 fatty acid of any green leafy vegetable
Wild purslane identification:
Purslane has thick reddish stems that creep along the ground, radiating from a single taproot.
The leaves are paddle shaped and usually remain quite small.  The leaves are flat, fleshy and smooth.
Note:  Be careful when foraging yourself! Hairy stemmed splurge is a poisonous plant that is similar in appearance to purslane.
Health Benefits:
We spoke of Purslane being the  plant highest in Omega 3 fatty acid, but that's not all, check out this profile!
Wild purslane plant is a good source of dietary fiber, antioxidants, essential fatty acids and is rich in a multitude of vitamins and minerals.
Here are a few:
Rich in Vitamin C, and some B-Complex vitamins as well as dietary minerals including calcium, iron, copper, phosphorous, magnesium, manganese and potassium.
44% RDA of vitamin A!
Wild purslane plant is especially high in Vitamin E and beta carotene, coming in at six times more than spinach or carrots.
Contains higher levels of potassium compared to other vegetables.
Give this powerhouse weed a try for a boost of nutrients that will not disappoint!  The Farmer's Market is waiting!
Elissa XOXO
***A study conducted by the Center for Genetics, Nutrition and Health states that "purslane is the richest source of omega-3 fatty acids of any green leafy vegetable yet examined."
***Caution: Careful of look alike  hairy stemmed splurge. Distinguished by a milky sap if you squeeze the stem.
**Caution with eating large amounts of wild purslane plant is that the raw or juiced leaves tend to contain higher amounts of oxalates, similar to spinach. Those sensitive to oxalates and kidney stones should avoid concentrated raw purslane leaf. Steaming it or pickling it largely reduces the oxalic acid content.