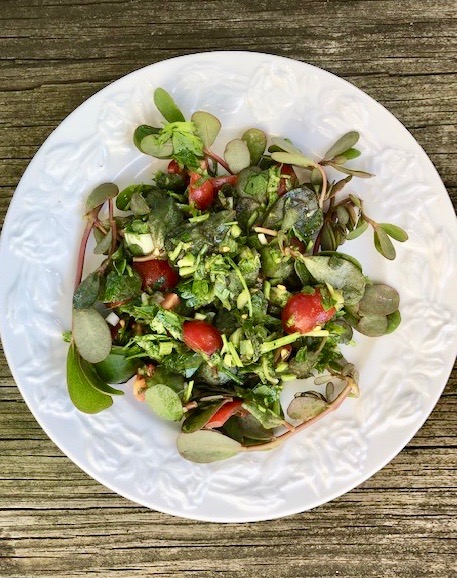 I am so excited about this super weed! Purslane was the one weed I really wanted to make a dish out of, for my recent cooking class, Wild Edibles.  This one is a winner! Full of omega 3's, everyone loved it!  See the blog I did on Wild Edibles to learn more about my class!  Please make sure your wild purslane has no pesticides if you pick it yourself. Many farmers markets will have purslane in the summer months. Enjoy this nutritional powerhouse when you can. Here is my recipe 🙂
Ingredients:
1 bunch of purslane, washed, roots and most stems removed
1 bunch flat leaf parsley, chopped
4 green onion (scallions) chopped fine (use white and green parts)
8-10 good cherry tomatoes chopped small
3 sprigs of fresh mint, leaves chopped fine
Juice of 2-3 lemons (add 2, then add more to taste, after mixing)
Extra virgin olive oil, to taste (about 1/8 cup)
Celtic sea salt to taste
Mix all in a large bowl. Taste and season as you go. I love lemon, so I add a lot.  The above amounts are to my taste.
This salad will last a couple days in the fridge. You won't find a healthier one! I hope you try purslane and let me know what you think!  Don't spray the weeds, eat them!!
** Add baby cucumber, radishes or whatever else you like that is in season
Elissa XOXO