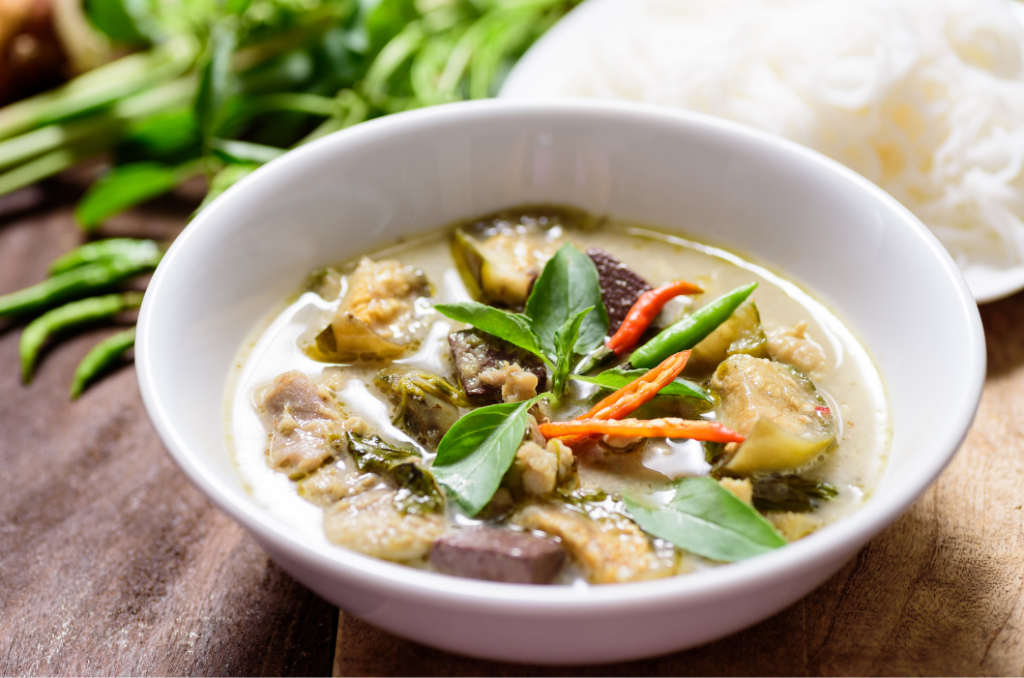 I love Thai food but I don't like some of the ingredients they add in restaurants like msg.  I came up with my own version that is really delicious! No unhealthy seed oils! I usually use coconut oil for most of my higher heat stir-frys. Add more of your favorite veggies and make it your own! Here's my recipe 🙂 Enjoy!
Ingredients:
2-3 chicken breasts cubed small
4-Tbs peanut oil, avocado oil or coconut oil
1 tsp curry powder
1/8 tsp cayenne pepper (1/4 if you like more heat)
2 stems fresh lemongrass chopped into 1/2 inch pieces
half of each red, green and yellow pepper diced
1 red hot chile pepper ( or any hot like jalapeno) diced fine
4 heads of baby boy choy chopped in large pieces
1/2 eggplant (small Japanese one if you find) sliced into 1/4 inch slices then 1/2 inch rectangle shape)
1/4 cup organic chicken stock
fresh basil (large pieces, leaves from 1 sprig)
1 cup frozen peas ( not canned)
1 -2 tsp Celtic sea salt
fresh cracked pepper
1-2 Tbs green curry paste ( more spicy more paste)
1 can organic coconut milk ( not lite)
1 tsp sugar
fish sauce
basmati or jasmine rice
Heat 2 Tbs peanut oil in large frying pan. Stir fry the diced chicken, curry powder, cayenne, tsp or so sea salt and cracked pepper till chicken is cooked through, about 5-8 minutes  Set aside.
With the same large pan heat up 2 Tbs of the oil and saute the lemongrass, peppers and eggplant for about 5- 8 minutes.  Add bok choy, stir fry another 2 minutes till wilted. Add curry paste, coconut milk, chicken stock, a few splashes of fish sauce ( 1Tbs or so) and sugar. simmer few minutes then add chicken back into the pan with peas and fresh basil. Bring to a light simmer for 10 minutes. Serve over rice or quinoa.
**Add other Vegetables as you like!
** If you like more heat, use more curry and cayenne. Also adjust salt, all salts are different. I find with my grey Celtic I have to use a little more.
** Thai kitchen brand is fine if you can't find authentic curry paste and fish sauce.
** Watch the ingredients ingredients in store bought products like curry paste, they chage them and you don't want MSG. The curry paste from whole foods doesn't contain msg, far as I know Thai kitchen is one brand.
I hope you enjoy this recipe as much as I do! Let me know if you make it 🙂
Elissa XOXO