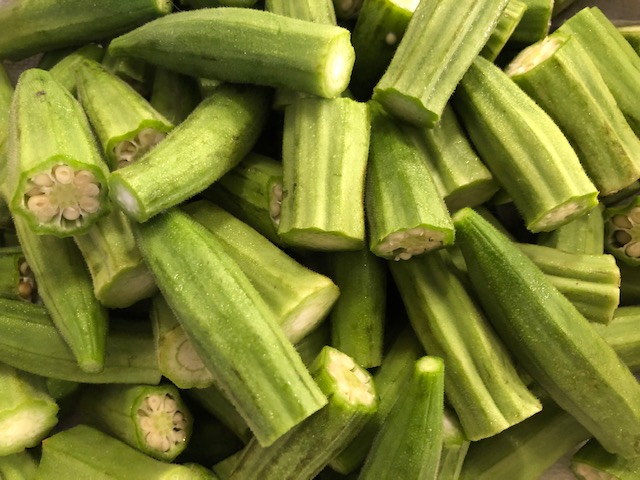 If you never grew up eating okra you have to give it a try! It's a healthy snack!  My favorite!  I did grow up eating it, my dad loved it, he was a southern boy where they'd fry it up,  and my middle eastern mom made amazing sauces with okra, chicken and cilantro over rice. Yum!  It's an amazingly healthy fruit, yes biologically okra is classified as a fruit!  Okra has an impressive nutrient profile. One cup (100 grams) of raw okra contains:
33 cal
1.9 g of protein
0.2 g of fat
7.5 g of carbs
3.2 g of fiber
1.5 g of sugar
31.3 milligrams (mg) of vit K
299 mg of potassium
7 mg of sodium
23 mg of vitamin C
0.2 mg of thiamin
57 mg of magnesium
82 mg of calcium
0.215 mg of vitamin B6
60 micrograms (mcg) of folate
36 mcg of vitamin A
Okra is low in calories and carbs and high in protein and fiber!  Also an excellent source of vitamins C and K1, as well as high in antioxidants.  This food from nature is a winner!  Below is an easy roasted okra recipe, give it a go!  Comments welcome 🙂
Ingredients:
1 pound fresh whole okra, I like to cut off the ends but you don't have to
3 or so tablespoon extra virgin olive oil
Celtic sea salt
Fresh cracked black pepper
Preheat oven to 425°F.
Wash and dry the okra. Cut ends like my picture if you desire. Place it on a baking sheet, leaving plenty of space between each piece. Drizzle the olive oil over the okra and roll it around for even distribution. Sprinkle on the salt and pepper to taste.
Roast the okra for 15 minutes, turning once.
Remove from the oven and enjoy as a snack or side.
Bon apetitie!
Elissa XOXO