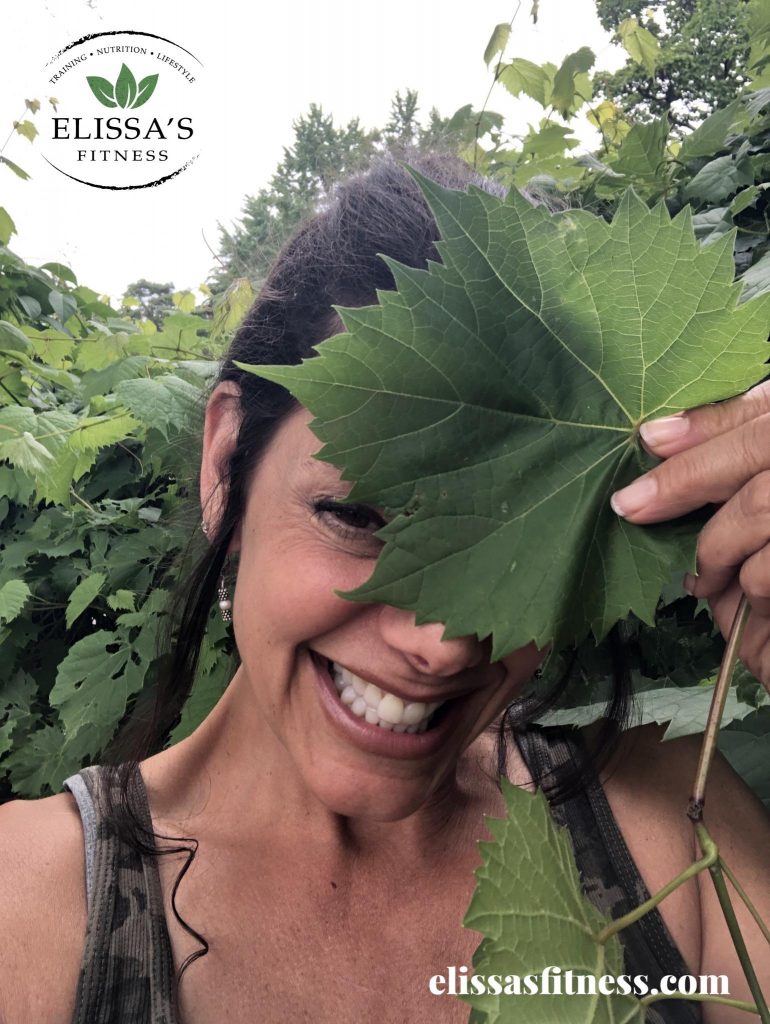 The best memory of my Grandma, picking grape leaves on the side of roads.  I have to admit when I was a kid I was a little embarrassed but deep down I would not have traded one minute of those times.  Today I go every year in her memory.  These are vegetarian but lamb and rice were the ones most adored.  I have become more fond of these!  A little tangy and spicy and so much fun to make with a friend!  I hope you enjoy and try to make them yourself!
The Filling:
1 cup basmati rice
5 cups chopped onions
1/2 cup good extra virgin olive oil
1/2 cup chopped flat leaf parsley
1/4 cup or more chopped dill
1/4 cup toasted pine nuts
3 teaspoons celtic sea salt
1/4 teaspoon fresh cracked pepper
1/4 teaspoon cayenne pepper (up to 1 teaspoon if you like spicy)
1 1/2 teaspoons allspice
4 ounces tomato paste
Other things:
135 fresh grape leaves.  Fresh is always best!  Pick in June.
2/3 cup fresh squeezed lemon juice (NEVER bottled!) It will be added to the water.
10 whole cloves garlic peeled (goes on top)
You will need a large soup pot and a heat safe plate that will fit inside your pot, see photo below.
Instructions:
Rinse off grape leaves and dry a bit on paper towels.  Set aside about 20 good size leaves to layer bottom and top.
Mix all other ingredients in large bowl except the garlic.
Use a teaspoon for filling. Have a large flat dish for grapeleaf rolling.
Place leaf shiny side down, with stem end near you. trim stem off as you go. Place a teaspoon full of rice mixture by the stem end and spread it like a thin pencil about a 1/4 inch from each end. Leave the ends open and roll thin. Roll them tight, stem end first. Tuck under and roll.
Line the bottom of a large pot with 1/2 of your large grape leaves, that you set aside, so your rolled grape leaves will not stick.
Arrange rolled grape leaves side by side, should be about 3 layers.
Add your other leaves you set aside on top to cover rolled leaves.
Add peeled garlic cloves on top, then the plate over that, upside down.
Add the lemon juice with about 2 cups of hot water until it almost covers the plate. You may not need the whole 2 cups. Plate should fit just inside the pot to hold all the rolled grape leaves in place. If you press the plate down with a large spoon water should be seen on the plate. If not, add more hot water. Push down plate and taste for salt/lemon. Add lemon and salt if it needs it. (to your taste, I usually add more to the water for flavor).
Cover with lid and simmer for 1 hour on low.  Check a couple times that there is enough water by pushing down the plate with a spoon.
Let cool a bit before taking out and putting on a large platter.  I let cool on the plate then cover and store in the fridge. They will last for about 5-6 days.  Always better the next day, and I like them cold or room temperature!
** Be careful when you lift the plate to try one and see if it is done, liquid is very hot and if plate
slips it can splash broth. **These are even better 2nd day. Store in fridge. Better cold.
Elissa XOXO