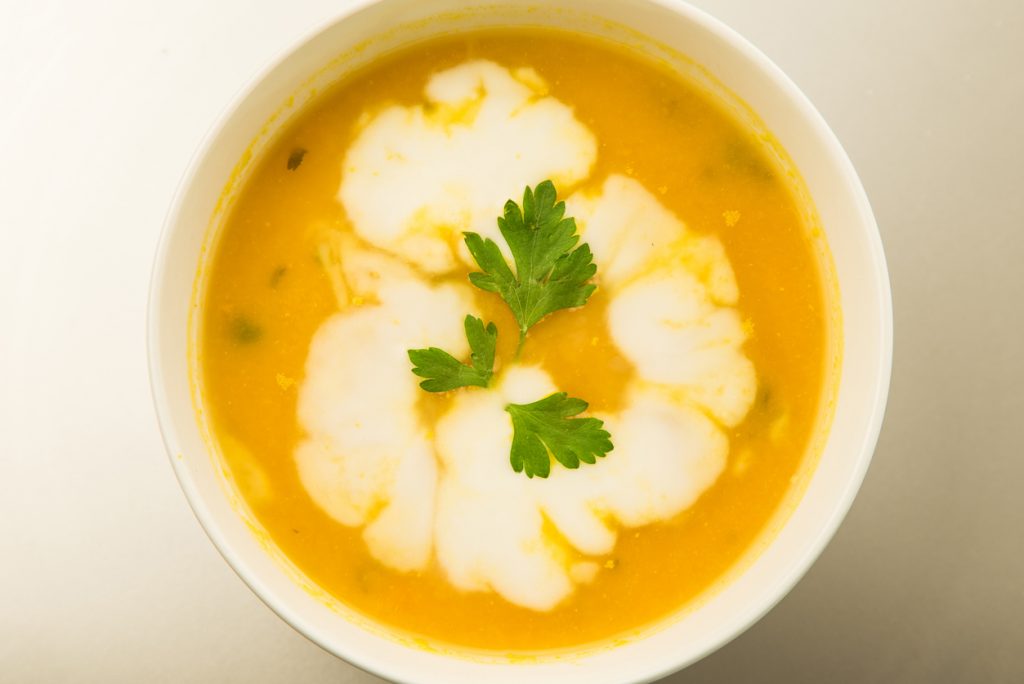 Here in Michigan the winters can be brutally cold, but nothing a hot, healthy bowl of soup won't fix!  This is one of my favorites because of the spicy flavor of the fresh ginger and roasted parsnips…this is not your ordinary carrot soup!!  Please don't skip the dollap of rich organic sour cream or yogurt and herbs on top.  I hope you love this one as much as I do!  Let me know!
Ingredients:
2 cups peeled and sliced carrots
2 cups peeled and sliced parsnips
4 garlic cloves minced
1 1/2 cups of chopped onion
1 tablespoon freshly grated ginger (like spicy, add another 1/2)
2 teaspoons celtic or himilayan sea salt (to taste, but be careful if your stock has salt not to add to much)
2 tablespoons olive oil or coconut oil
1/2 teaspoon turmeric
1/2 teaspoon  cinnamon
1 teaspoon coriander
1 teaspoon cumin
Pinch cayenne
1 cup unsweetened pear or apple juice
4 cups of vegetable or chicken stock
1 cup fresh squeezed orange juice
1 tablespoon fresh (never bottled) lemon juice
Celtic or himalayan sea salt to taste
Fresh cracked pepper to taste
Organic sour cream or full fat organic yogurt (on top)
Chopped fresh cilantro, finely chopped scallions (garnish top)
In a skillet heat oil and sauté onions, garlic, ginger and salt. About 5 minutes, stirring once out twice. Add turmeric, cinnamon, coriander, cumin and cayenne and stir for a minute or two. Pour in apple or pear juice and stir to deglaze, transfer to large pot.  Add stock, carrots and parsnips.  Cover and simmer for 20 minutes or until vegetables are soft.  In a blender or food processor puree the vegetable mixture in batches with the orange juice.  I love my vitamix for this it makes it so smooth 🙂  Lastly stir in the lemon juice, salt and pepper to taste.  This soup is good hot or cold.  Don't forget a dollop of yogurt or sour cream and sprinkle with the chopped cilantro and scallions.  Yum!  Enjoy!
Elissa XOXO