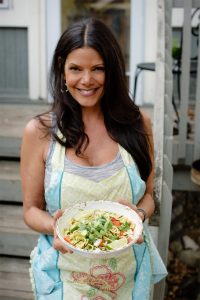 Spiralizing is all the rage , fun and easy!
Try my middle eastern flare to this beautiful salad and let me know what you think!  Easy and soooo healthy!!  You can get a spirulizer on amazon for 20.00, I bought the spirulizer brand, and it works great!! Have fun with it!  My clients love it, very filling!  Let me know what you think!!  XOXO ELISSA
2 zucchini spiralized ( I chop in half after spiralizing or they are very long)
3 tomatoes (I use Kumato) chopped, or

 

any good, in season, tomatoes.
3 small cucumbers chopped
4 green onions (scallions) chopped small
4 radishes chopped
2 handfuls of  Italian parsley chopped

 

few tbsp sweet onion chopped small (optional)
Extra virgin olive oil to taste (don't skimp)
Juice of 3 lemons (fresh not bottled) or to taste
Celtic sea salt to taste
fresh cracked pepper to taste
Add all in large bowl and mix well. Taste and adjust lemon, sea salt and pepper to taste.
ENJOY!! 
** Add sprouts to the top, or add in any other veggies you like.