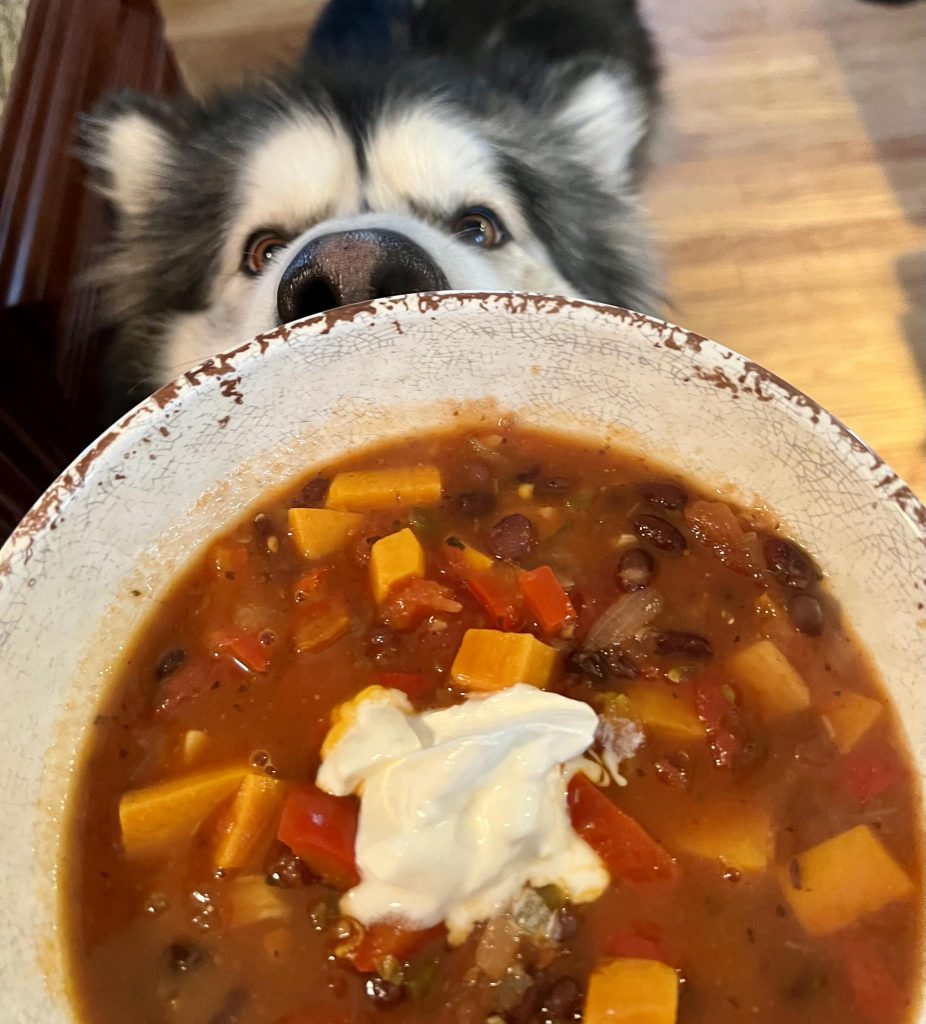 I have been tweaking this recipe for years and I have to say this one is a winner.  Nothing will warm you on a cold Michigan day like a mildly spicy vegetarian chili!   I love to freeze 1/2 of it and have it later 🙂 I hope you enjoy it as much as I do.  A lot of healthy veggies and great spices give this chili a bit of a kick. Adjust the heat how you like!
Happy winter and warm bellies!
Ingredients:
3 tablespoons olive oil
1 large sweet onion, chopped small
1 large jalapeno pepper, cored, seeded and chopped very small
1 green pepper, cored, seeded and chopped small
1 red pepper, cored, seeded and chopped small
5 garlic cloves minced
2 sweet potatoes peeled and diced
2 tablespoons chili powder (more if you like spicy)
2 teaspoons Celtic sea salt (more to test at end)
2 teaspoons fresh cracked pepper
2 teaspoons cumin
1/4 teaspoon crushed red pepper
1 bay leaf
2 teaspoons dried basil
1- 28 oz can whole peeled tomatoes crushed with hand ( i do it in a separate bowl and add it in)
3 1/2 cups vegetable or chicken broth
2 -15 oz cans of black beans, rinsed
Juice of 1 fresh lime
Organic sour cream (for garnish if you eat dairy, if not try cilantro)
Directions:
Heat oil in a large pot or dutch oven on medium-high heat.  Reduce the heat to medium and add onion. Stir for about 10 minutes.  Add all peppers, sweet potatoes and garlic.  Stir occasionally for about 5 minutes.  Add all spices.  Stir for a minute.  Add tomatoes and broth. Simmer uncovered on low for 20-30 minutes until sweet potatoes are cooked through but not mushy.  Stir in the beans and continue to simmer on low for 5 minutes.  Add the lime juice and disregard the bay leaf.  Taste for spices and add more salt if needed.
Serve and garnish with a dollop of yummy sour cream (or cilantro)  So good and very filling!
Enjoy!
Elissa XOXO