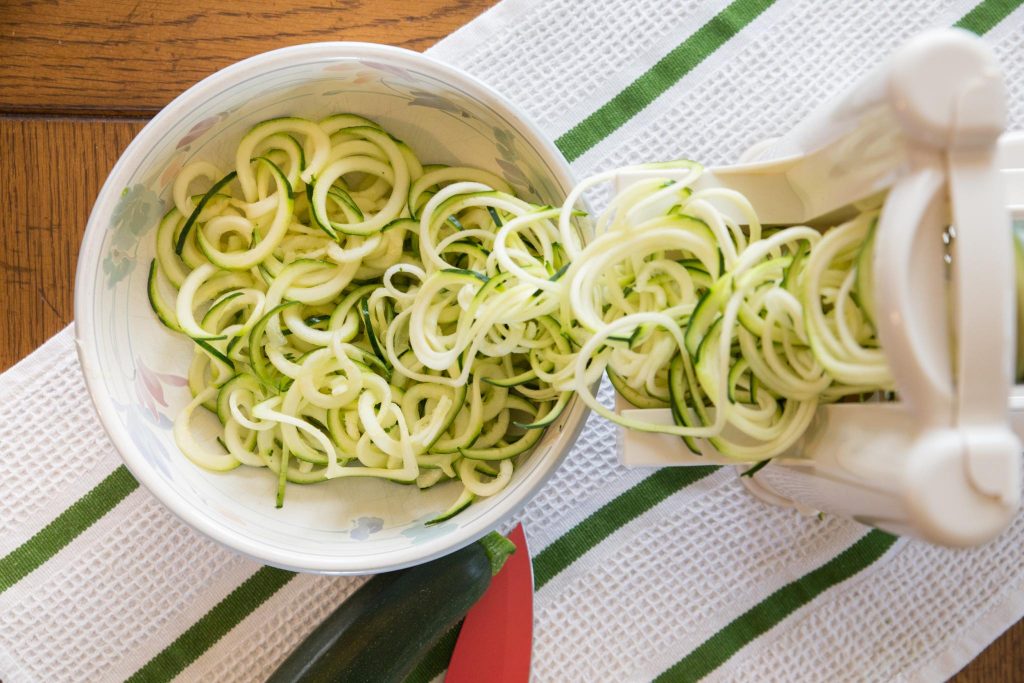 I LOVE this amazing salad! So much protein packed in this crunchy, tangy, little bit spicy Thai inspired salad!  Yum! I have had this type of dressing before and had to duplicate it . If you are not a peanut butter lover you could try tahini, but trust me, this one is yummy!  My spiralizer has become one of my favorite tools. So easy to use! This salad will last days in the fridge if you mix the dressing on it right before serving. I keep the dressing in a mason jar and store in fridge till I am ready to use.  Then I shake it up, add to salad, sprinkle celtic sea salt to taste, then mix it up with your hands so it is well coated. Sprinkle with chopped peanuts and voila!!  Beautiful, impressive salad you will want to share!  Please let me know how you like it, comments very welcome!!
Salad Ingredients:
2 green zucchini spiralized
2-3 large carrots julienned see link below for perfect tool (carrots are to small to spiralize trust me)
1/4 head of red cabbage chopped in thin strips
1 red pepper chopped
1 bunch of cilantro chopped
6-8 scallion (green onion) chopped
1/2 cup peanuts chopped
Amazing Peanut Dressing Ingredients:
1/3 cup natural peanut butter
1 garlic clove minced
3 tablespoons lime juice (fresh not bottled)
3 tablespoons honey
2 tablespoons tamari (or organic soy sauce)
2 tablespoons rice wine vinegar
1 tablespoon siracha ( I use chili garlic sauce with the rooster on it)
2 tablespoons sesame oil
2 tablespoons water
couple twists of fresh cracked pepper
celtic sea salt to taste
Mix all with a whisk and store in fridge. You may need to add a little water and shake it up if it gets thick.
**The tool I use to julienne carrots is a must have!  I got mine on amazon, Good Grips julienne peeler  link here …Peeler
Enjoy!!
Elissa XOXO