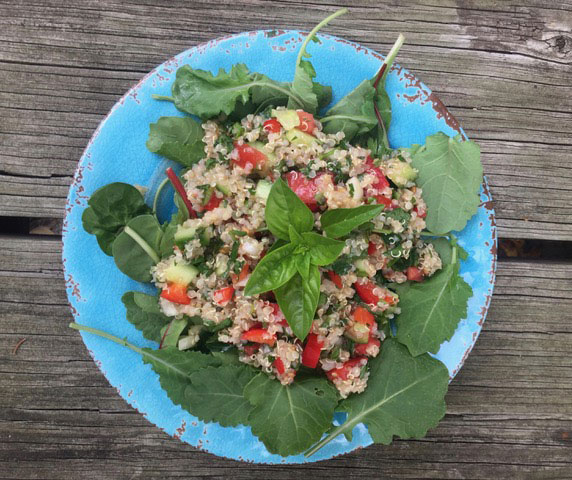 Hi friends! I grew up chopping parsley and peeling chick peas by hand. Yes, by hand. My amazing Assyrian grandma would have it no other way. No food processor, just me, my hands and an amazing love we shared for food and each other. I made this and two other quinoa dishes for a cooking class I did for clients a few years ago, This one was hands down the favorite! This Quinoa Taboulee recipe was taken from her original recipe , with a little tweaking. I substituted Quinoa for the bulgur wheat, which takes out the gluten and adds more protein. I wish I could share my new version with my grandma. I miss her so much. I hope you all enjoy this most healthy dish!
Quinoa Tabbouleh
1 cup quinoa
1 tomato chopped small (or 10 or so small grape)
1 red pepper chopped small
1/4 red onion chopped small
2-3 small cucumbers chopped small
Handful of fresh mint chopped (teaspoon or so dried if don't have fresh)
Handful fresh basil chopped small (optional)
2 big handfuls of Italian parsley chopped small (more flavor than curly)
DRESSING:
1/8 of cup or so extra virgin olive oil (to taste)
Juice of 2-3 Limes
Sea salt to taste ( I use Celtic or Himalayan Pink)
Small amount of fresh cracked pepper ( Optional)
Rinse Quinoa well, if using un-rinsed ( some in box are already rinsed). Place in saucepan, boil 2 cups water and 1-cup quinoa for 15 minutes or until water is gone. You may need to strain off water if it isn't all soaked up, in a fine mesh strainer. When done cool in covered bowl in fridge.
While cooling, chop all ingredients small.
Juice the limes, I like using a good hand juicer to get all the juice out of the limes…by hand you waste a lot!  Whisk together dressing ingredients. After quinoa has cooled add all ingredients together in the bowl with the quinoa. Lime, olive oil and salt to taste. If using dried mint only use a couple of pinches and rub it through hands to make it fine and bring out the flavor. Mix all with your hands, it's better!
Quinoa is high in protein and a healthy, gluten-free alternative to using wheat in Taboulee! Very Healthy! Enjoy!
*** They have bulk dry mint at arabic markets, but fresh is always better if you have it.
*** You can make Quinoa a day ahead and keep in fridge and mix next day
*** Taste great for days in fridge
*** You can boil the quinoa differently if you'd like, follow the bag directions