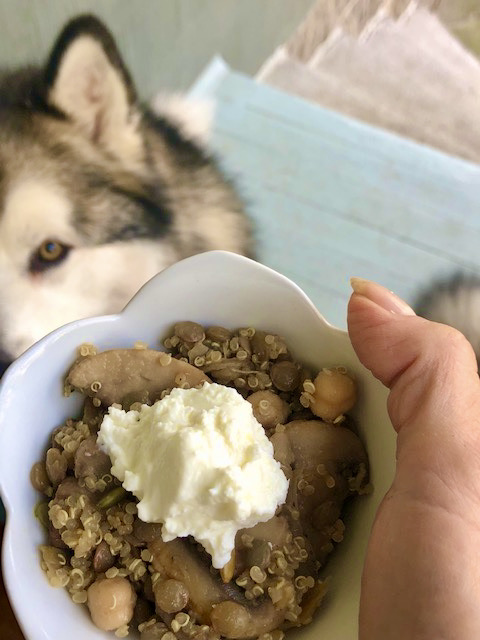 Growing up I learned a lot of vegetarian dishes. I still love to create new ones!  Do you ever decide to go into your pantry and use what is available, mix it all together and it turns out awesome?  This is one of those!  I just sautéed a sliced onion with some mushrooms.  As I was doing this I cooked up a cup of quinoa and a cup of lentils (separately). Then I added a can of chickpeas and voila!  A healthy, very filling protein bowl!  Add a dollop of yogurt if you like and maybe a nice salad. Done. Healthy, protein-rich vegetarian meal.  Let me know if you try it 🙂  Here's to simple, real food!
Ingredients:
1 large sweet onion,  sliced thin
1-2 cups of sliced mushrooms
1 cup green lentils, rinsed and picked through
1 cup quinoa
1 can organic chickpeas, rinsed and drained
organic olive oil
celtic sea salt
fresh cracked pepper
Directions:
Cook the quinoa in a separate small pot.  Do the same with the rinsed lentils.  Don't overcook the lentils, check them as they simmer.  While these are cooking, heat the olive oil in a large saute pan over medium high heat,  add the onions until softened.   Next, add the mushrooms, stirring often until mushrooms are softened.  Season with salt and cracked pepper as the onion and mushrooms are cooking. Turn the heat off when done.  Rinse the chickpeas in a mesh colander and add to the onion mixture.   When the lentils are done drain them so all the water is gone, then add them also.  Do the same with the quinoa.  Sometimes a little water is left in quinoa, drain it off before you add it to other ingredients.  Mix all together gently in the same saute pan and adjust the seasoning to your liking.  So much fiber and plant-based protein!  Yum!  I love to add a dollop of my homemade yogurt to the top,  Enjoy!
Elissa XOXO