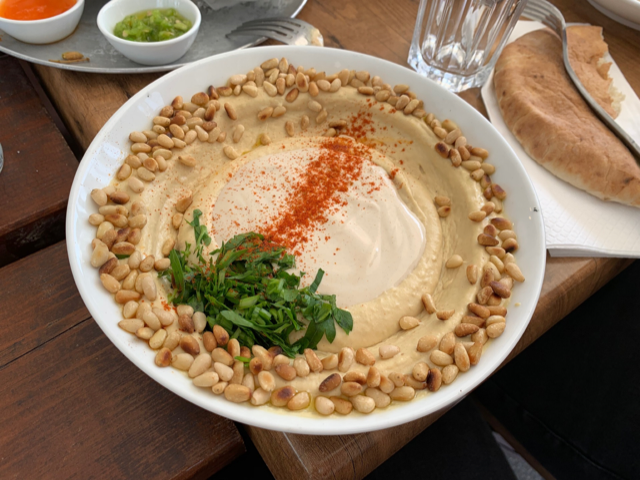 When I was a kid one of my jobs was peeling the skins off chickpeas…by hand!!  My Granda knew the hummus would be creamier. Luscious and amazing.  Do you have to?  No. But if you want an amazing hummus there are easier ways to skin a chickpea!  If you want a quick, pretty good hummus you can use a good canned chickpea with the skins.  Better than good…peel the good canned chickpeas…Best?  Cook your own and peel them!  ( you can soak the dry beans with a little baking soda to get skins off before cooking).  You can also buy skinless chickpeas now!  Follow the recipe below for any of these options!  Top with olive oil, toasted pine nuts and sumac…yum.  Many variations of this recipe can be used also such as spicy hummus, add a little cayenne or jalapeño.  Or roasted red pepper hummus. Hummus means chickpea in Arabic, so this is not really hummus, but all so good!! I always seem to come back to the hummus of my childhood tho…maybe its the memories of the peeling of chickpeas with my grandma♥
Enjoy,
Elissa XOXO
Ingredients:
2 cups cooked skinless chickpeas
1/2 cup tahini , blend well first then measure
1-3 garlic cloves, peeled and chopped big.  Start with 1 and add more if you want
Juice of 1 lemon ( always use fresh!)
1 tsp celtic sea-salt, or more to taste
Water saved from chickpeas, to thin if needed
Good olive oil for topping
Toasted pine nuts for garnish (optional)
Sumac for garnish (optional)
Chopped parsley for garnish (optional)
First add your chickpeas and garlic to the bowl of a food processor or I use my Vitamix.  Puree this well then add tahini, salt, and lemon juice. Puree well again.  Add small amounts of chickpea water, a tablespoon at a time to get the creamy consistency you like. Not too watery. Blend again and taste.  Add more lemon, salt or garlic.. to your taste.  Spread onto a plate and garnish with the oil, sumac and chopped parsley.  Eat with veggies, romaine lettuce leaves or wrap into a collard green with tabbouleh.  So amazing . Enjoy!!
Elissa XOXO