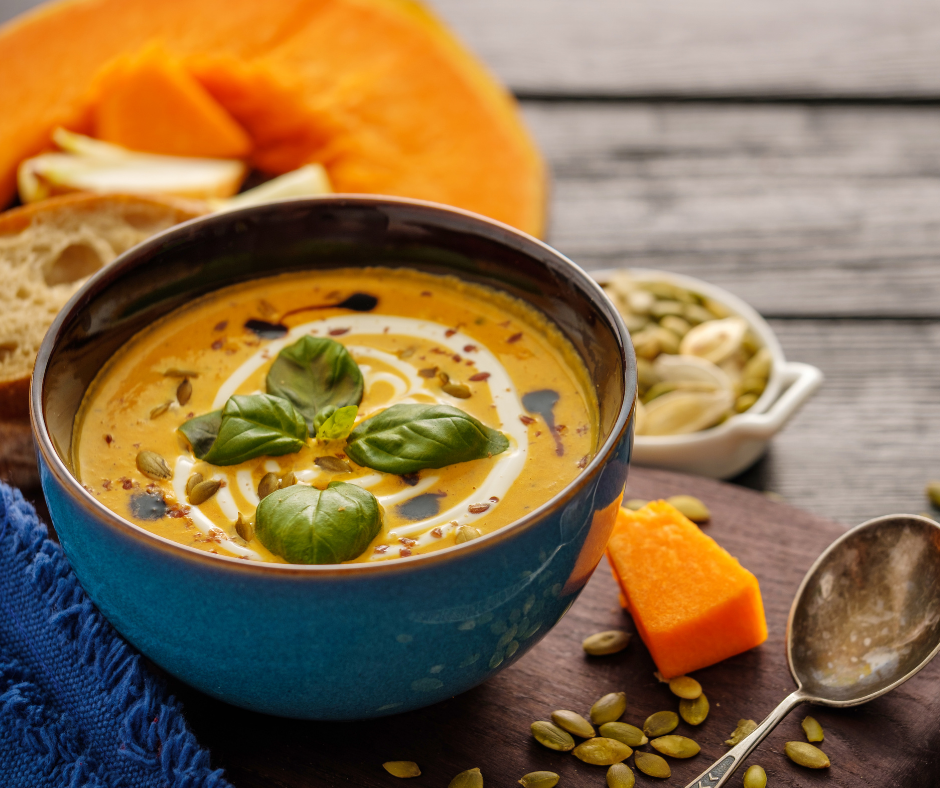 This soup is perfect for fall!  Hearty, healthy and so comforting for the colder weather to come.  It has no cream so it is lighter, yet incredibly filling.  I love spicy soups, but this time I decided to create a simple fall soup that even folks that don't like spice would enjoy 🙂  Lentils are a superfood and pumpkin is full of vitamins and minerals and add a nice thickness to the soup.  Healthy all the way around. I hope you enjoy this soup!
Ingredients:
1 cup dried lentils
3 tablespoons coconut oil
1 large vidalia onion chopped small
2 garlic cloves chopped small
1 carrot chopped
1 stalk of celery chopped
1 cup cooked and mashed pumpkin or plain canned pumpkin (I use Trader Joes organic)
grated zest of one orange
8 cups vegetable or chicken broth
1/2 cup orange juice
1 teaspoon cinnamon
1 tablespoon raw honey
celtic sea salt to taste (if broth has salt taste before adding more)
fresh cracked pepper to taste
Garnish ideas: Toasted pumpkin seeds, sour cream, parsley, basil leaves, cilantro or chives.
Directions:
Wash lentils and disregard any impurities.  I have found small stones, so please don't skip this step 🙂  In a large soup pot or dutch oven heat up the coconut oil on medium high heat.  Cook onion, stirring for 2-3 minutes.  Add garlic and stir for 1 minute.  Add carrots, celery, honey, cinnamon and cracked pepper.  Stir for 2 minutes or so.  Add broth, drained lentils and orange zest. Lower heat to slow simmer and cook covered until lentils are done. 20-30 minutes.  Taste for salt and add if needed.  Stir in cooked pumpkin and orange juice.  Simmer 10 minutes.  This is where I love my Vitamix blender.  I like to puree 1/2 of this soup, but you can do the whole batch.  The Vitamix makes it very creamy.  You can use an immersion blender also  if you have one.  If not puree in batches  in your blender.  Be careful to let steam escape from the top, or let the soup cool a bit before blending.  If not you can have a mess!  Explosion of soup in your kitchen, and much added cleaning time, uggg!  Serve with a dollop of sour cream or yogurt and chopped parsley or cilantro. I love garnishes!   They add so much to a pureed soup.  Bon appetite!
Elissa XOXO