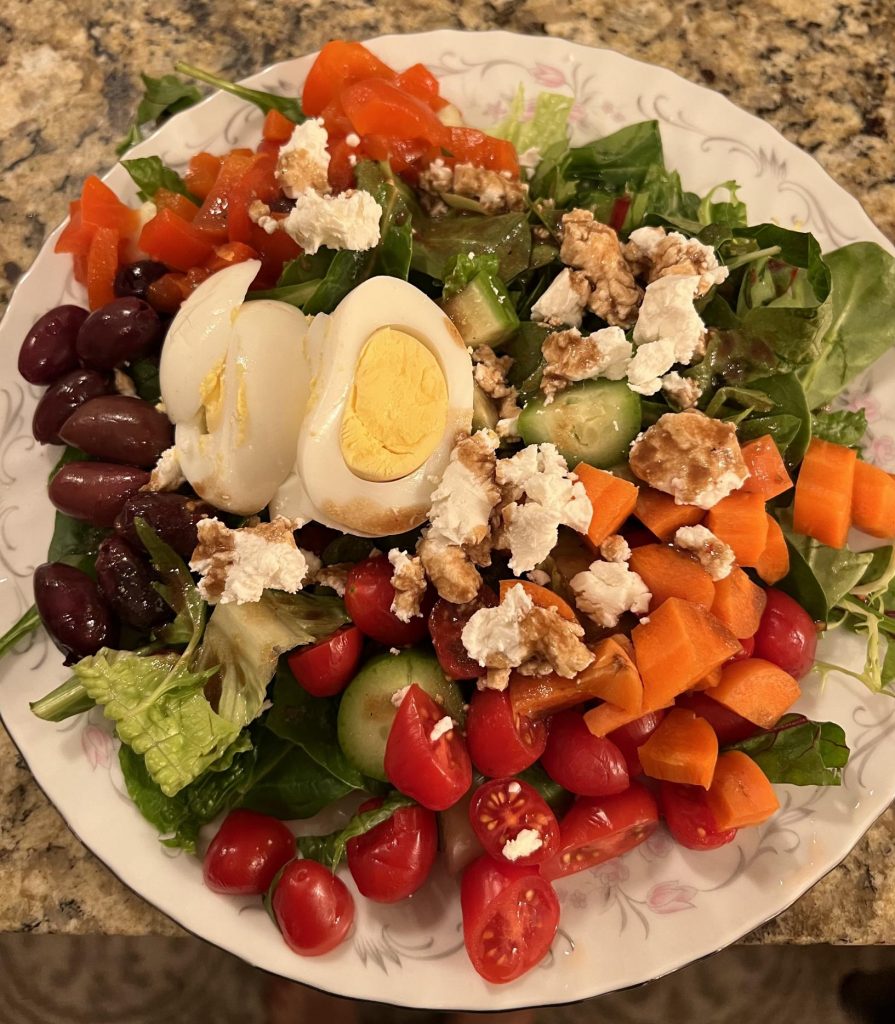 Ok it's not really a French Nicoise salad. It doesn't have tuna, potatoes or green beans, BUT it is really amazing!  My new favorite salad to make at home.I like to prepare this salad and keep it in the fridge and take it out when I'd like to make one. I make enough for a few days.  It stays fresh as long as there is no dressing on it.
First chop up your romaine lettuce and veggies and cover it in the fridge without any dressing.  You can mix them together in one bowl or separate the veggies in containers so you can put together the salad like I did in the above photo.  When I want to make the salad I fill the plate with the greens and all the other colorful veggies.   Add olives, sliced hard-boiled egg, chopped roasted red pepper (jar), crumbled goat cheese and the yummy Balsamic Vinaigrette dressing.

I make enough dressing for the week and store it in the fridge in a little mason jar.  Just shake it up when you are ready to drizzle on your salad.
The Balsamic Vinaigrette recipe is on my Blog as well here Three Must-Have Vinaigrette Recipes!
It's so nice when you have all the ingredients ready in the fridge and it only takes a few minutes to put together an amazing healthy salad that is flavorful and satisfying.
Ingredients:
Chopped romaine
Handful of mixed greens (optional)
Chopped carrots
Chopped small tomatoes
Chopped scallions
Chopped baby cucumbers
Sliced hard-boiled egg
Crumbled goat cheese (optional but yummy)
Chopped roasted red pepper
Pitted olives
Make ahead balsamic vinaigrette recipe on my Blog here
Have fun adding your own favorite veggies to add to this
colorful medley!
Elissa XOXO