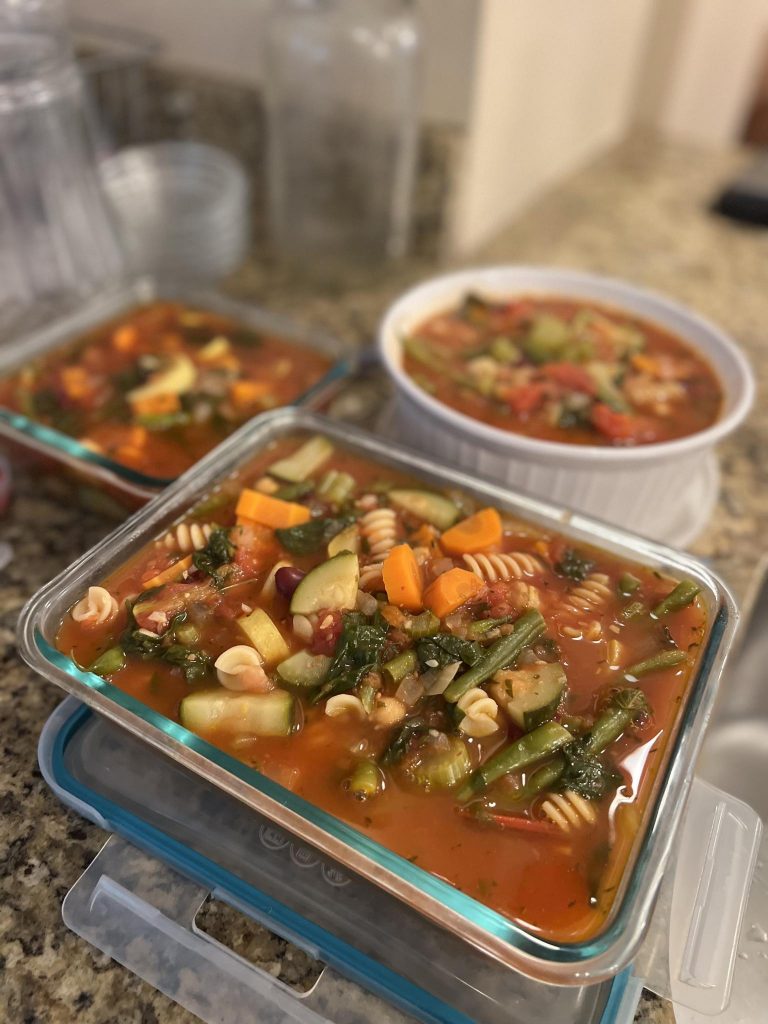 This recipe originated with a wonderful client named Tom.  I have since made it so many times I cannot count! I love to tweak, add ingredients and change recipes. I believe I perfected this one! Be ready for lots of healthy veggies in this one!  It makes my heart sing, Yep sing!
Call it Minestrone, call it veggie. I call it a favorite!  I make a lot so I can freeze it for later. There is nothing like defrosting an awesome healthy soup on a cold winter day.  Take a break from everyday cooking and make extra to freeze. You will be so glad you did!
This recipe makes a lot so get out a big soup pot…OR half the recipe:)
Ingredients:
1 large onion diced chopped
6 cloves of garlic chopped small
3 tablespoons of olive oil
4 carrots chopped
4 celery stalks chopped
1 bunch flat leaf (Italian) parsley chopped
3 zucchini chopped (yellow, green or mix)
About 3 handfuls of green beans trimmed and cut in half
1 bag of fresh organic baby spinach, not frozen (or regular chopped medium)
A handful of fresh basil chopped
2 cans of garbanzo beans
1 can of kidney beans
8 cups of vegetable or chicken broth
2 large cans whole tomatoes-28 oz hand crushed with juice
2-3 tablespoons sriracha sauce (more if you like the heat!)
2 tablespoons oregano
2 tablespoons of thyme
Celtic sea salt and fresh cracked pepper to taste
Optional: 1 cup of rotini pasta. Cook and add after soup is done
*Cook your pasta separate, rinse with cool water and drain. Put to the side you will add it at the end. If you cook it in the pot of soup it will suck up all the broth!
*Open the cans of tomatoes and crush them with your hand in a big bowl. Set aside, you will add them with the broth.
Note: Be careful of adding the sea salt right away. If you have salted canned tomatoes or broth. Taste and add later to adjust to your liking.
Heat olive oil in your big stock pot on medium high.  Add onions and cook few minutes.  Next add garlic, carrots and celery, cook for about 3-4 minutes. Add all other ingredients except the pasta and spinach. Turn heat down a low simmer.  Cook until vegetables are tender but not mushy. Next add the spinach and pasta. Taste for salt and pepper. Adjust to your liking.
You can puree 1/3 to 1/2 of this soup if you like a creamier soup. I left it chunky in this picture.  If you want to puree it cool it down a little bit and use an immersion blender. If you do not have an immersion blender you MUST let it cool down more to puree in your blender or food processor or it may end up on your ceiling :).
I hope you enjoy this soup as much as I do!
 Elissa XOXO