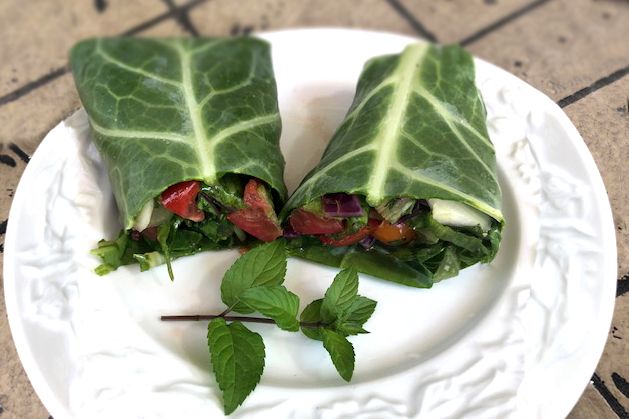 Fold, Tuck and Roll!
A bread alternative with endless possibilities!  Take it for lunch, or make it for dinner…no bread, just healthy greens 🙂
I love, love, love making these wraps.  I find it matters where I get my collard greens. Whole foods and Plum always have good ones that are mild and not bitter. If you have smaller leaves use 2, large leaves, one is good. I shave off the middle stem/vein a little bit and cut the end off. They can be thick so I find they roll better if slightly shaved. Fill them, fold ends, tuck and roll, like a burrito!  Try them with your kids, they may love the rolling 🙂  If you use 2 leaves you will overlap then fold both ends and roll. See photo below.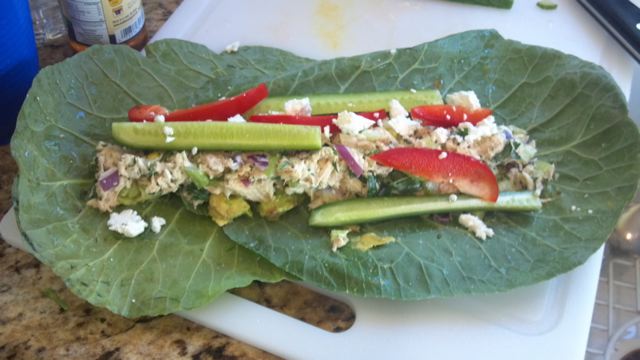 Wrap ideas:
Hummus and tabbouleh collard wrap:
Spread hummus in middle of the leaf, then fill with tabouleh or any salad you like. Fold, tuck and roll!
Salad wrap with avocado:
Get some good fats and protein into your veggie wrap by adding avocado. Spread the avocado down the middle and fill with salad, I make my lemon, olive oil, middle eastern salad and use it… it's amazing with the avocado!  Add salad and fold, tuck and roll!
Thai chicken wrap:
Oh my gosh this one is soooo yum. I roasted chicken thighs (check out my roasted chicken recipe here on my website).  I shredded the chicken and coated with my peanut Thai dressing (recipe here also under spirilized zucchini salad). Then I added some shredded red cabbage, scallions and chopped peanuts.  Amazing healthy lettuce wraps!!
Tuna or turkey with cheese, scrambled eggs with salsa…the ideas are endless!  If you have not tried collards in place of bread you have to give it a try!!  Comments welcome 🙂
Elissa XOXO