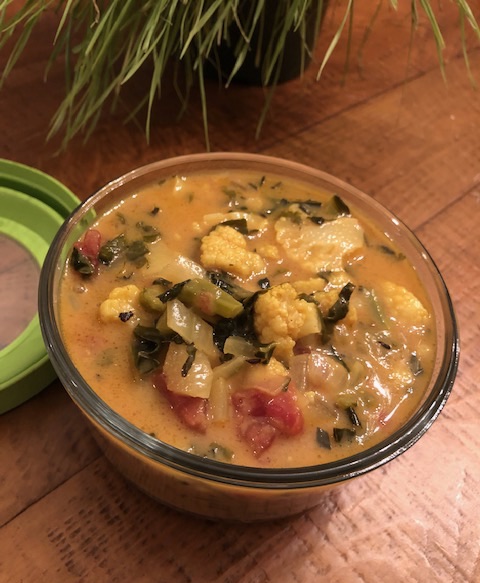 Wonderful, healthy soup you will love!
Hi Friends!  This is a stew recipe I found on multiple sites online that I tweeked and has become one of my top 3 favs!!  Not only will you love it, it is sooo healthy and filling you will want to make it every week!  Quick fun story…one of my clients has a group that gets together once a year and makes a soup to share. They then vote on the best soups. Guess who got first place this past year?? My client!  I gave her this recipe and she won!! Try it and let me know what you think!! (originals I found from Dr. Mark Hyman, and also Epicurious)
Ingredients:
3 -4  tablespoons coconut oil
1 teaspoon cumin seed (whole)
1 medium sweet onion finely chopped
3 ripe tomatoes finely chopped ( small can of chopped organic with no salt as substitute)
1 head cauliflower (remove stem, cut into bite size pieces)
1 large jalapeno, seeded and finely chopped
2 cups of chopped kale ( I like lacinato, the dark one)
2 teaspoons ginger paste ( you can grate fresh ginger if you have it)
1 tablespoon of cumin powder
1 tablespoon coriander powder
1 teaspoon turmeric powder
1 can of full fat, unsweetened coconut milk
1 tablespoon celtic or himalayan sea salt (more to taste)
2 tablespoons chopped cilantro
1 cup of vegetable broth or water
Instructions:
Wash and chop ingredients. In your soup pot heat coconut oil on medium heat and add cumin seeds till they start to sputter (jump). Add onions till translucent, few minutes. Add tomatoes and stir till softened, few minutes. Add all the rest of the ingredients and stir together. Cover and simmer on low for 15 minutes, stirring a few times.  Adjust your sea salt, and Voila!  Amazing soup. Note:  If you want a stew don't add the vegetable broth/water.  I like a little more broth!  This can be a very satisfying lunch for the next day!  I hope you enjoy it as much as I!  Bon appetite !