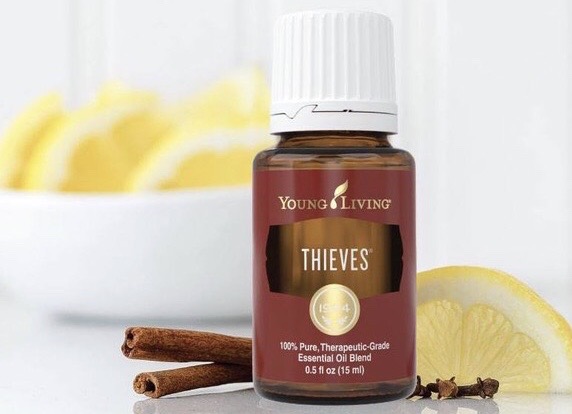 Hi friends!  I want to share a little bit about my favorite cleaning products.  Actually, it's really one product.  That's what makes it even more amazing.  The versatility of Thieves cleaning products.  I am sold on the products because they are safe and they work!  There is something not right about cleaning my home with chemicals that leave things toxic.  That's not clean to me.  Not safe either.  I have been on a journey to have a chemical-free home and this has been a lifesaver!  Not just for cleaning, you can diffuse it (smells amazing)  or put a drop in your tea, YES  you can consume this oil blend.  I love putting a drop in my tea to spice it up.  Young Living created Thieves and it has become their best selling line.  This powerful blend consists of cinnamon bark, clove, eucalyptus radiata, lemon and rosemary oils.  It smells sweet and spicy at the same time.  I love the smell 🙂  No more harsh chemical smells!  The story of the name "Thieves"  is interesting enough to share. During the 15th century in France thieves would sneak into graveyards to rob from the dead.  In order to protect themselves, legend says, they created an aromatic combination of clove, cinnamon bark, lemon, eucalyptus radiata and rosemary essential oils.
Thieves oil is the key ingredient in Thieves Household Cleaner, Thieves Waterless Hand Purifier, Thieves Wipes and Thieves Foaming Hand Soap.  You can also find Thieves Laundry and Dish soap.  Wait, they have more!  They now have Dental Floss, Mouthwash and Toothpaste!   One thing for sure it seems everyone loves Thieves.  When I clean my home I have a large spray bottle mixed with water and Thieves Household Cleaner.  I use this to clean my counters, floors and even bathrooms.  So much easier with one product!  I feel so much better knowing my furry little pets are walking on floors that are not coated with toxic chemicals.
Another way I have used my Thieves oil is to make a nontoxic, amazing smelling carpet fresh.  I add it to baking soda,  sprinkle on my area rugs and vacuum.  Smells so clean and fresh.  If you want to join me on purifying your home with natural Thieves products please check out my Essential Oils page on my website here  Elissa's Fitness Essential Oils , I'd love to help get you started with a chemical-free home 🙂  Stay safe and healthy friends!
Elissa XOXO