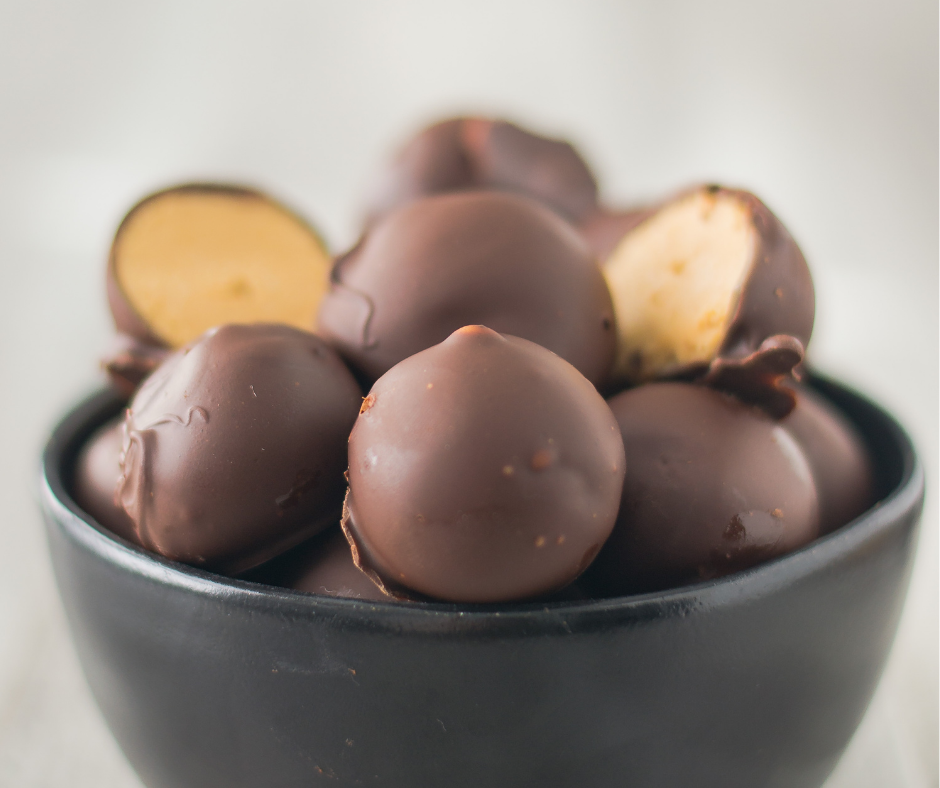 Chocolate and peanut butter.  Who can resist!
One of my favorite combinations brought to a healthier version!  You don't have to be a baker or candy maker to whip these up!  I have been making different types of keto-bombs and protein-bites for many years, but had yet to make one with peanut butter.   So, I was on a mission to make a protein ball or keto fat bomb that was yummy and much healthier than a Reese's peanut butter cup!  I believe I found it!   This no-bake ball has just a few ingredients:  peanut butter, coconut flour and just a bit of organic maple syrup.  Even the kids can make them!  
Coconut flour is grain and gluten-free.  It is a nutrient-dense flour, made by grinding coconut meat to a fine powder. It is naturally low in carbs, high in fiber and keto friendly!  It is a good source of protein, fat and minerals, including iron and potassium.
You can leave them plain or coat them in dark chocolate.  Either way you will have a high protein, low carb treat that will knock your socks off! 
Ingredients:
2 cups of unsalted creamy peanut butter ( I like Trader Joes)
3/4 cup coconut flour
1/2 cup maple syrup
1/2 teaspoon fine ground Celtic sea salt (and a sprinkle for the top if you choose)
Dark chocolate chips (optional) for coating
Directions:
Mix all ingredients in a bowl.  Stir well.  Roll into balls with hands and set on a cookie sheet with parchment paper.  Set in the freezer for 15 minutes.  If you want to coat them in dark chocolate,  melt the chocolate in a double boiler while the balls are in the freezer.  I use a glass bowl in a large pan and slowly melt the chocolate.  Once the chocolate is melted take 2 forks and dip each ball into the chocolate.  Set them back onto the parchment paper . I like to sprinkle the tops with a little bit of Celtic sea salt when the chocolate is still soft.  Totally optional.  When all are coated set them back in the freezer.  When the chocolate has hardened, take the balls out and put them in an airtight container in the fridge or freezer.
Note:  If you want a totally "Keto" Peanut Butter Bomb, then use stevia instead of maple syrup, and also chocolate chips sweetened with stevia.  You can also skip the chocolate dipping altogether, they are still very good and filling. 
Maybe I will add a dash of cinnamon next time, what do you think?  Comments welcome!
Enjoy!
Elissa XOXO