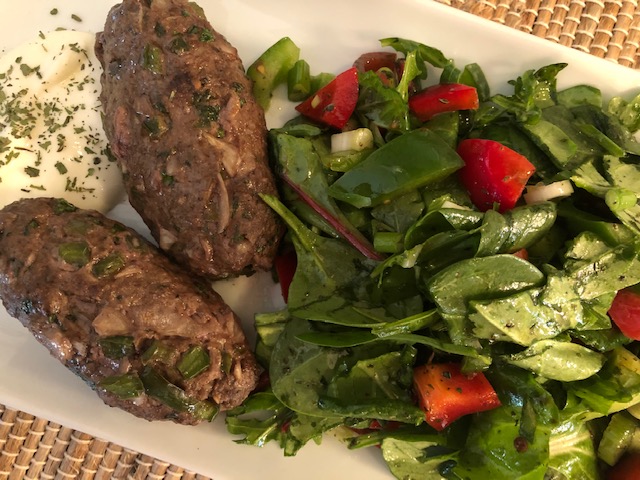 The perfect, easy protein whether you are on the Keto diet or just like meat with a bit of veggies and yummy spices.  I grew up making Kafta and we always had it with a little homemade yogurt and a big healthy salad.  It's an easy recipe that you can grill on a skewer or broil in the oven.  Want to make it even easier?  I put a couple in my toaster oven or broil in the oven and they turn out perfect every time! Summer is a great time to put them on the grill, just watch because they cook quickly when you use grass-fed beef. I hope you enjoy this easy middle eastern dish and I really hope you add a healthy middle eastern salad to go with it, try my celery herb salad, it goes perfect 🙂  Comments welcome and appreciated!
Ingredients:
1 1/2 pounds of ground grass-fed beef
1/4 sweet onion chopped small
1/2 green pepper chopped small
small handful parsley chopped small
1 tablespoon ground all-spice.  Make sure it is fresh. ( I use mixed baharat from a middle eastern store called Babylon near me)
Celtic sea salt to taste
Fresh cracked pepper to taste
Directions:
Mix all together in a bowl with your hands.  Form into long oval shape.  Broil on high about 6 minutes, flip them and broil another 4-6 minutes.  They can also be grilled with or without skewers.  Watch that they do not over cook.  They taste much better medium or medium rare 🙂  It may take you a couple times to figure out your broiler.  My small toaster oven is perfectly done when I time 6 minutes, flip then 4 minutes. If you put them on the grill they may cook even faster depending on how big they are so don't walk away from the grill!
Serve over rice or quinoa with a dollop of yogurt.  If you are staying away from carbs I like to eat it plain or with a salad 🙂
Enjoy!
Elissa XOXO