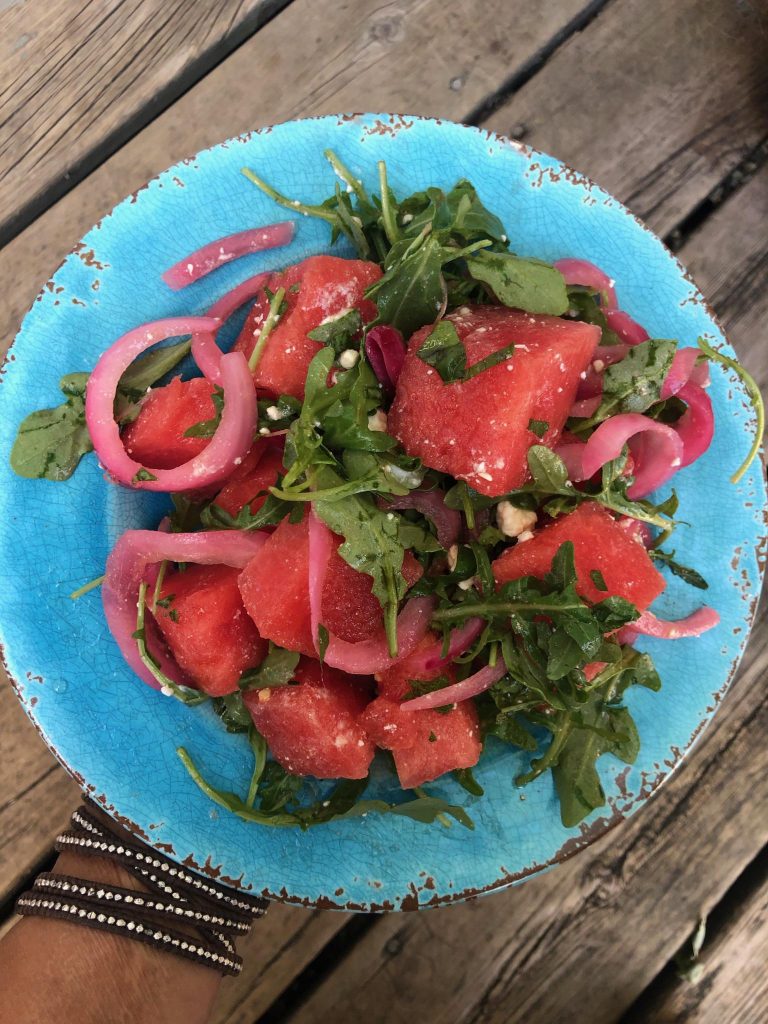 Watermelon is an amazing summer treat!  Turn it into a salad and make it into a heathy dish.  Arugula, fresh herbs and pickled onions add health benefits and a lot of flavor!  Watermelon is mostly water but also has good amounts of vitamin A, B6 and C.  Lots of lycopene, antioxidants and amino acids.  Arugula is a cancer fighting power food.  It is cruciferous veggie that is high in antioxidants, fiber and phytochemicals.  Add calcium and vitamin K and you get a lot of healthful punch!  Put the two together with some pickled red onion and a little feta and herbs and you have an amazing salad.  This one is a must for your summer get-togethers or just a yummy dish for yourself 🙂  Don't skip the pickled red onion, it adds so much flavor and you will have extra for sandwiches or whatever you wish!  Enjoy!
Ingredients:
4 cups of washed baby arugula
4 cups of cubed watermelon
1/4 cup or more pickled red onion ( recipe below)
1/4 cup crumbled feta ( I like sheep's milk feta) you can also use goat's cheese
1/8 cup red wine vinegar
1/4 cup extra virgin olive oil
handful of fresh basil chopped
handful of fresh mint chopped
Pickled Red Onion:
1 large red onion
1 cup of red wine vinegar ( regular vinegar will work fine)
1  teaspoon celtic sea salt
Instructions:
Pickled red onion:
Slice red onion in half and peel.  Slice each half into thin moon shape.  Add to a bowl, preferably with a tight lid.  Boil vinegar and salt and add on top of onions.  Cover with lid or saran wrap and toss onions every 20 minutes or so, until they cool.  About an hour.  Store in a covered container or jar with the the vinegar.  Will last in the fridge for about a month.
Salad:
Rinse arugula and add to a large bowl.  I love my salad spinner for this.  Chop watermelon into cubes and add to bowl.  Add all other ingredients and toss gently.  Another option is to add all except the feta and wait to add the feta right before serving.  Then sprinkle on top.  I would suggest this if you are making a lot and may have leftovers.  This is amazing the next day.  Refreshing and very healthy!  Enjoy!
Elissa XOXO