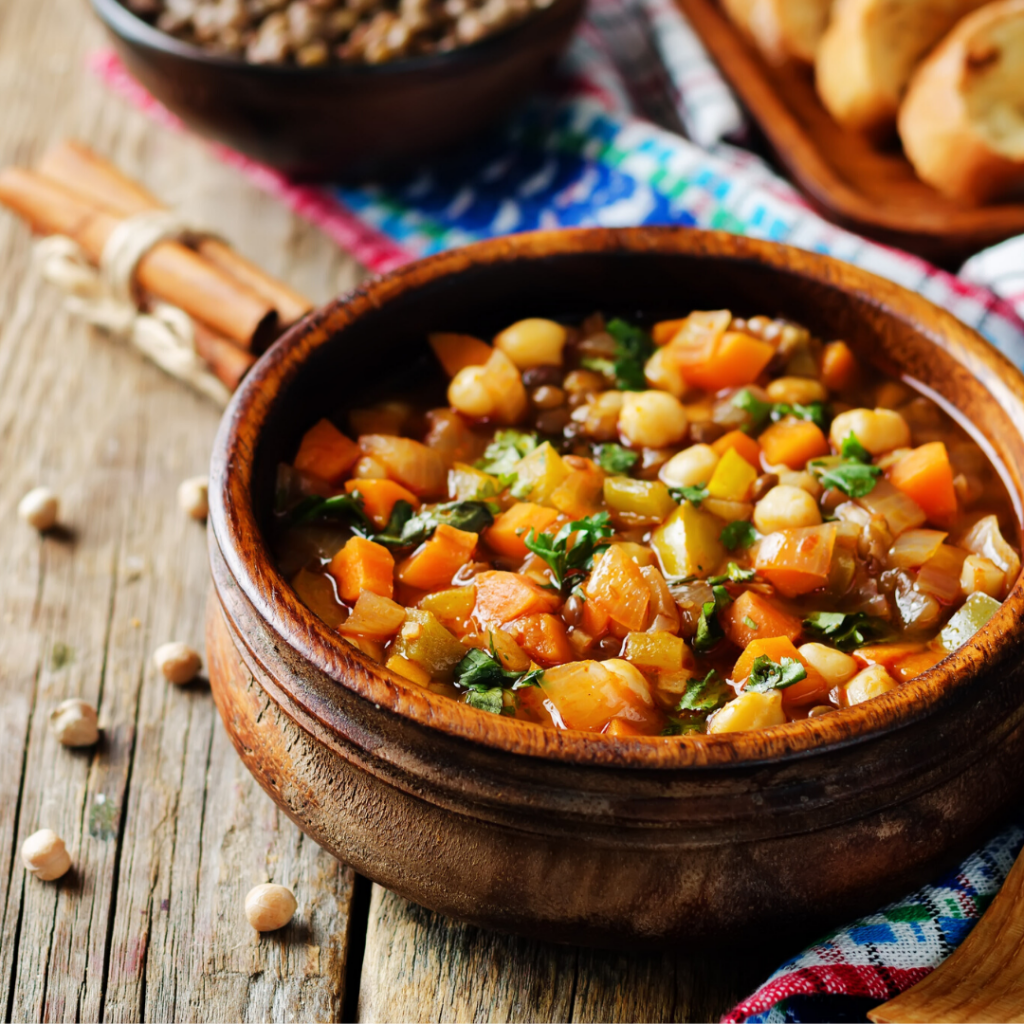 I love Lentils! Being half middle eastern I grew up eating them every week 🙂  Sometimes lentil soup can be really heavy, and have meat in it.  Most times I'm in the mood for a light, healthy but filling lentil soup.  Lentils are incredibly healthy and calorie dense, you get full fast!  Full of iron, fiber and nutrients our body craves.  I love this recipe because it is light, and full of healthy veggies that are wonderful for you!  Not to mention delish!  Give it a try it might just be a favorite!
Ingredients:
1/4 cup extra virgin olive oil
1 medium sweet onion, chopped small
2 stalks celery chopped
2 carrots, peeled and chopped
5 cloves of garlic peeled and chopped fine
2 teaspoons cumin
1 teaspoon curry powder
1 teaspoon thyme (dried or fresh)
28 oz diced tomatoes, drained
1 cup brown or green lentils , picked over and rinsed
4 cups vegetable broth
2 cups of water
1-2 teaspoon celtic sea salt to taste.  Note:  If using salted canned tomatoes taste before adding salt
pinch red pepper flakes
fresh ground black pepper to taste
1 cup fresh collard greens or kale, tough stem middle removed
juice of 1 medium lemon, to taste
Instructions:
Warm olive oil in a large pot over medium heat.
Once olive oil is shimmering add onion, carrot and celery stirring often until onion is translucent.  About 5 minutes.
Add garlic, cumin, curry powder and thyme.  Cook until fragrant, stirring constantly for about 30 seconds.  Pour in the drained diced tomatoes, stir for couple minutes to blend.
Pour in the lentils, broth and water.  Add salt after tasting broth.  Add red pepper flakes.  Just a pinch!  Unless you like spicy 🙂  Add fresh ground pepper and turn the heat up a bit to a gentle simmer, not high. Keep pot partially covered.  Cook for 20-30 minutes until lentils are cooked but not mushy.  I check them and stir once in awhile because I like them to hold their shape, not break up.
Transfer 2 cups of soup to a blender, I love my Vitamix for this.  Depending on your blender you may want to let it cool a bit.  If you have an immersion blender you can use that.  Puree till smooth and add back into your soup pot with the rest of the soup.  Add your chopped greens and cook another 5 minutes or so until greens have softened.  Add lemon juice to taste.  Add more lemon, salt and cracked pepper if you like, until the flavors are just how you want them.  This will keep about 4 days in the fridge and freezes very well! Enjoy!
*I never listen to the cook time on bags of lentils, they alway seem to be mushy. Check them often while cooking. You will be happy you did.
Elissa XOXO