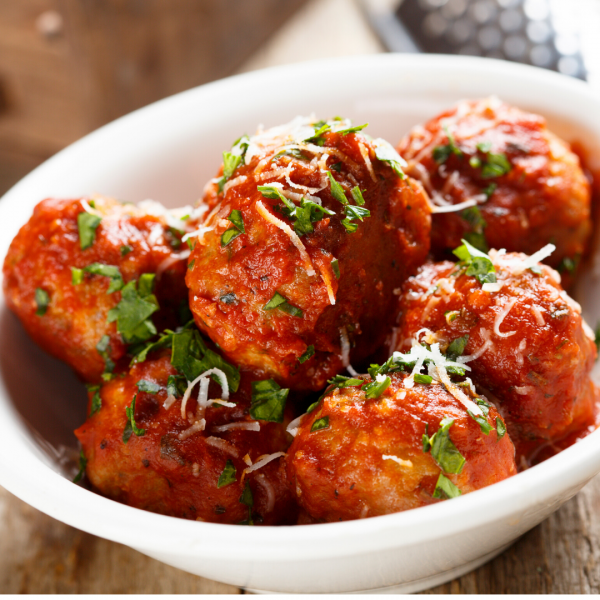 I'm not much of a crockpot girl, because I unplugged everything!  But, if I am home, I love making these for guests or to take to a gathering.  It's always a winner!  Skip the pasta, but don't skip browning the meatballs before you put them in the crockpot or they will crumble and not keep their shape!  Next time you're home for 6 hours or so pull out that crockpot and fill your home with this this amazing aroma 🙂  Healthy and filling comfort food!  You won't even miss the pasta!
Ingredients:
2 pounds ground turkey (I use the 94% lean from Whole Foods usually)
2/3 cup cooked quinoa, cook in chicken or turkey stock if possible
5 garlic cloves, minced
1 large egg, beaten lightly
2 tablespoons olive oil
2 tablespoons finely grated romano cheese for meatballs
1/4 cup grated parmesan or romano for garnish (optional)
2 teaspoons dried basil
1 teaspoon dried oregano
1/2 teaspoon onion powder
1 teaspoon celtic sea salt (if using unsalted tomatoes use 2 teaspoons of celtic sea salt)
1/2 teaspoon fresh cracked pepper
1 large sweet onion , sliced into thin rounds
2 28-ounce cans of crushed tomatoes (organic if you can get them)
Handful of chopped parsley for garnish (optional)
Directions:
In a large bowl combine turkey, quinoa, beaten egg, olive oil, cheese, basil, oregano, sea salt and pepper.  Mix thoroughly. Do not over mix.  Roll into small meatballs, a bit smaller than a golfball.  Place on a baking sheet.
Layer sliced onions on the bottom of the crockpot and add 1 can of the tomatoes.  Turn on low setting.
Heat a big skillet over medium high heat and a tablespoon or more of olive oil.  Add meatballs searing top and bottom, until golden brown.  About 1-2 minutes per side.  As you brown them, add them one at a time (because they are delicate) to the crockpot.  Once the meatballs are all in the crockpot add the other can of tomatoes, completely covering the meatballs.  If you push them down to submerge, do so gently so they won't break up.
Cook on low for 6 hours.  Serve in a bowl and sprinkle with chopped parsley and a little more grated cheese if you'd like.  Enjoy!
Elissa XOXO