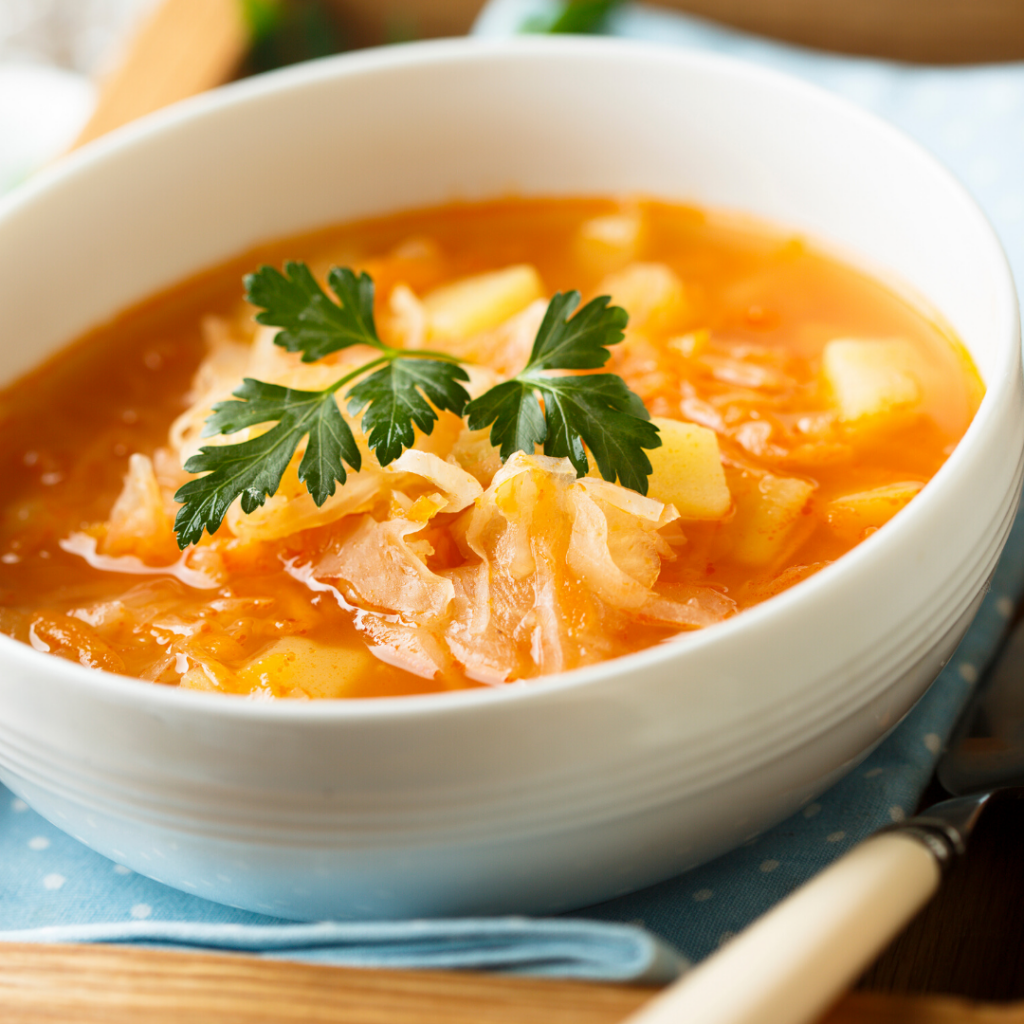 This is not your ordinary cabbage soup!  I made up this soup one night when I had leftover roasted veggies, including carrots, parsnips and brussel sprouts.  I decided to invent a healthy cabbage soup, with more veggies and a little bang.  Little did I know it would become my favorite cabbage soup ever 🙂   What makes it so amazing is the little kick and the amazing flavor of the spices I put on the veggies, when I roasted them.  I love the spice blend I used.  I learned it in a  Moroccan cooking class.  It includes garlic, cinnamon, ginger, cayenne and turmeric.  I still buy the blend from Simply Good Kitchen in Birmingham.  What fun those cooking classes were!  They still sell the spice, but unfortunately they are not doing any classes right now. You can skip this spice, but it really adds to the flavor!  I have gotten a ton of compliments on this soup!  I hope you try it and enjoy it as much as I have!  Comments welcome!
Soup Ingredients:
1/2 onion chopped
5 cloves garlic chopped
1 head of cabbage cored and chopped into 1 -2 inch pieces
4 cups of chicken stock
2 cups water
1 tablespoon organic chicken bullion (optional)
1 teaspoon basil,
1 teaspoon oregano
1/2 teaspoon fresh cracked pepper
Celtic sea salt to taste
a pinch of red pepper flakes
2 -15 oz

 

cans of no salt, chopped tomatoes (one fire roasted optional)
1 small can tomato paste
Roasted veggies: 
3 carrots chopped
3 parsnips chopped
10 or so brussel sprouts ( cut larger ones in 1/2 or 1/4)
olive oil
sea salt
cracked pepper
Moroccan spice blend (Simply Good Kitchen Blend, see below)
Preheat oven to 420 degrees.  Coat veggies in olive oil and season generously with the salt, pepper and Moroccan spice blend.
Roast for 20-30 minutes,  turning once half way through.
*You can roast the veggies the day before, and store in the fridge, until you make the soup the next day.  You can also roast them while preparing the soup.
Soup:
Heat olive oil in pot, medium high heat.  Add onion and garlic.  Saute a couple minutes.  Add cabbage and saute a couple minutes.
Add spices,  broth, water, tomatoes and roasted veggies. Bring to slow simmer and turn heat down. Cover pot.
Simmer on low 20 min, stirring occasionally until cabbage is done.
Voila!  Not your average, boring cabbage soup!
Enjoy!
Elissa XOXO
**Moroccan spice blend from Simply Good Kitchen in Birmingham, MI
www.simplygoodkitchen.com
** Bullion adds a little flavor, but not necessary if you have good stock.
** Vegetable bullion can be used instead of chicken