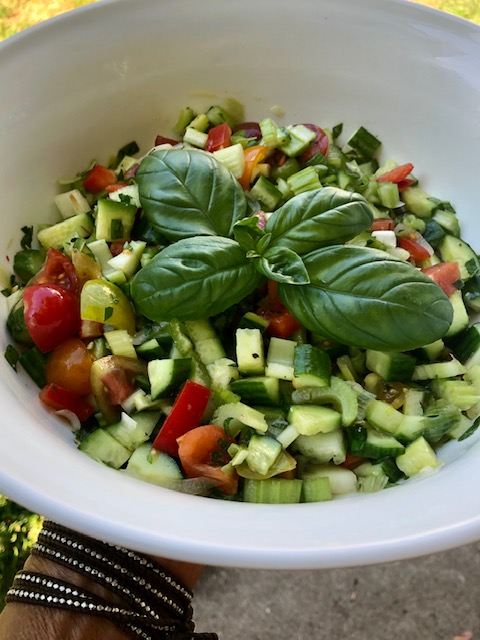 This is one of my favorite summer salads.  So light and fresh and I get to use the herbs from my garden.  I remember making this salad when I was a little girl with my Grandma.  I love so much that she never wasted a thing, we used every veggie and created healthy salads like this one.  If you are looking for a very filling healthy summer salad you must try this one!  I hope you enjoy the wonderful herbs of summer in your garden as much as I do.  Let me know if you make this salad!  Comments welcome and appreciated 🙂
Ingredients:
1 bunch of celery ( 8-9 stalks). Use the stalks and the green leaf tops. Chopped small
2-3 good tomatoes or 1-15 organic grape tomatoes.  Use the best you can find for the season.  The better the tomatoes the better the salad. Chopped small
4 scallions (green onions) Green and white parts.  Chopped small
1 whole red pepper.  Chopped small
5 baby cucumbers or 1/2 english peeled.  Chopped small
Handful of fresh mint chopped
Handful of fresh basil chopped
1/8-1/4 cup good extra virgin olive oil
2-4 lemons juiced.  Only use fresh lemon juice, never bottled.  Lemons can be small or large.  Start with 2,  juice them and add.  Taste and adjust to your liking
Fresh cracked pepper to taste
Celtic sea salt to taste
Instructions:
Add all chopped veggies into a large bowl.  Bowl needs to be large enough to toss well with hands. Add oil, lemon juice and salt and pepper.  Mix together well with hands.  Taste and adjust for salt and lemon to your own liking. Voila!  Healthy fresh summer salad that will last a couple days in the fridge 🙂  Add some slices of avocado for a little plant based protein, yum!  Enjoy!
I hope you love this salad as much as I do!
Elissa XOXO