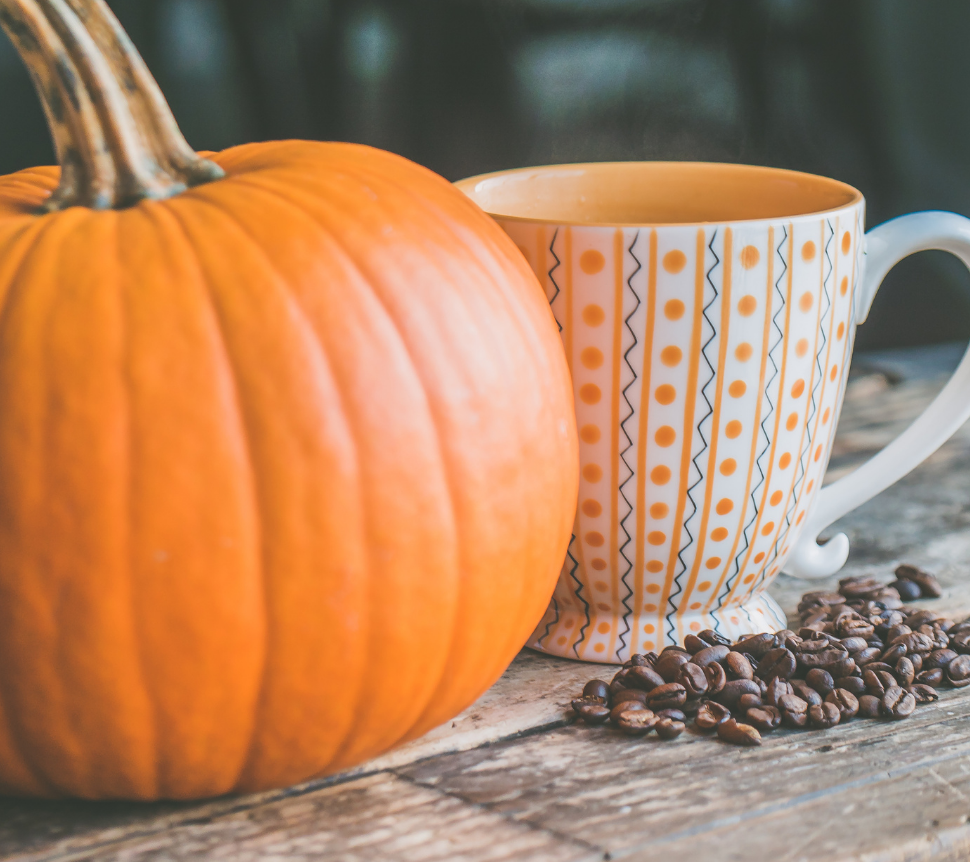 It's fall and some of us cannot wait to grab that Pumpkin Spiced Latte from Starbucks, right?  I used to love getting holiday lattes once in awhile but I stopped many years ago because of the toxic ingredients and massive calories of sugar!  But this doesn't mean you can't enjoy a specialty coffee!
How about scented fall candles?  Pumpkin spice?  Plug-ins for fall?  Yikes!  These candles have toxins that fill your home!  How about a blend of essential oils that you can put in your coffee or a home diffuser?  A healthier version of Starbucks pumpkin spiced latte and a healthier alternative to fall candles or plug-ins.  This blend is so easy to mix up and have on hand!
Time to enjoy the awesome pumpkin season with a healthier twist 🙂  Here are some tidbits to motivate you to make your own?
When Pumpkin Spice is not so nice!
Lets take a quick look at at Starbucks Pumpkin spice latte:
From artificial colors and flavors to preservatives and sulfites, to natural flavors (which can be anything)!  How about over 50 grams of sugar in a grande!  So sure, maybe it's easy to just pull up to the drive-thru window at StarBucks but think of how unhealthy this drink really is.
Now for pumpkin scented candles, plug-ins and the like:
Do you ever get a headache when you walk through craft stores or in a home where they are burning scented candles or use plug-ins?  Scented candles and plug-ins have been known to be full of toxic chemicals which cause indoor pollution and can diseases such a asthma, lung damage and cancer. Check out my Blog post on plug-ins here  Dangers of air fresheners  .
Candles even emit dangerous toxins when not lit!  This is all true and why I switched to essential oils for home fragrance and so many other things like cleaning and even flavoring food!
Essential oils to the rescue!  Pumpkin Spice Blend for your home and for your Latte!  I use the Vitality Line from Young Living because it is approved for internal use.  I love diffusing this blend in my diffuser and also making that special coffee once in awhile 🙂  You can make extra just by mixing up the blend in an empty essential oil bottle and have it on hand instead of mixing it for every use.  I hope you give it a try!  Never diffused oils?  Not sure where to start?  Contact me I'd love to help!
Here's the blend:
2 drops of cinnamon bark
2 drops of nutmeg
2 drops of cardamom
2 drops of clove
For the Latte:
Make 2 cups of coffee.
Heat up 1 cup of whole organic milk or you're favorite almond or coconut ( unsweetened, and no emulsifiers).
Add 1/4 cup pureed pumpkin (not pie mix)- This is optional.  It tastes great without the pumpkin puree as well!
Add the essential oils and 1-2 tablespoons of maple syrup (optional).
Whisk all together and add to the coffee.
Top with homemade whipped cream or just the way it is!  The flavors of the oils together are amazing.  Pure natural flavors!  You will never miss that chemical laden Starbucks version!
For the Diffuser:
Add all oils, fill with water and start it up!  Pure natural pumpkin spice!  Fall heaven and chemical-free home!
I hope you have ventured into the journey of a chemical-free home.  It all starts there!
Elissa XOXO