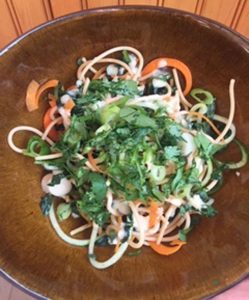 Hi all!!  I promised to post an amazing salad I made this summer. It is now one of my favorites!  The dressing is a ginger miso.  I stay away from soy but the little I use is fermented, organic and non-gmo.  More on miso for a later post!!  Back to the recipe…lentil noodles, NOT PASTA!!  and YES i get to use my spiralizer again!!!  Fun and Yum!!!  Enjoy!!
Elissa XOXO
The Salad
8 oz lentil noodles ( like pasta spaghetti , found mine at Trader Joes)
4 large carrots spiralized  (use large they work better)  about 3 cups
1 english cucumber spiralized (don't need to peel)
5 cups of kale chopped
4  scallions (chopped small)
1/2 orange juiced (juice your own!!)
2/3 cup of ginger miso dressing, or more if you want. (recipe below, you can double and store in fridge)
Cook noodles, till done but firm. Let cool, then add to carrots and cucumber. toss in scallions.
Ginger Miso Dressing
Makes approximately 2/3 cup
1/4 cup organic, non gmo miso
1 tbsp chopped ginger
2 cloves garlic, peeled
1/4 cup water
3 tbsp organic brown rice vinegar (or rice wine vinegar)
2 tbsp orange juice
2 tbsp sesame oil
Put all in a blender till smooth. Store in glass container in the fridge, will last a couple weeks.  Mix only what you will need for the day. After mixing taste and season with celtic sea salt and fresh cracked pepper if you like. Miso can be salty so add dressing then only add salt if you like.  The salad lasts a few days without the  dressing mixed in 🙂
* Garnish with parsley and or cilantro. Chopped cashews or peanuts on top optional.