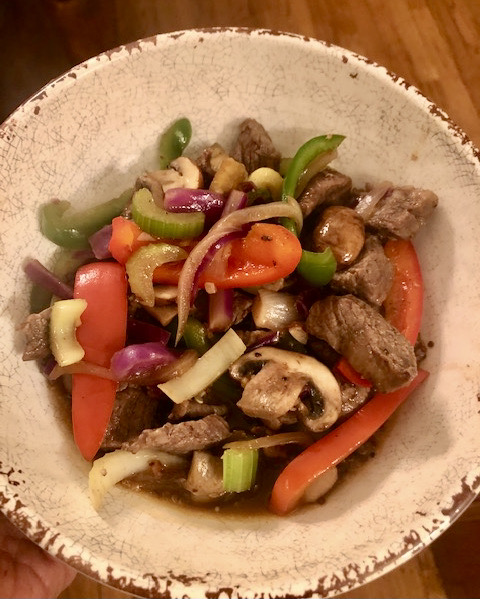 Sometimes you just want a quick and easy healthy meal with lots of leftovers for the next day, right?  Stir-fry can be your go-to, with chicken, beef or just veggies.  Don't skip the fresh ginger it really adds amazing flavor!  Substitute rice with quinoa and you have an even healthier dish.  Quinoa is actually an edible seed, even though classified as an ancient grain.  It is a good source of plant protein and fiber and is a great substitute for rice.  If you're up for an easy recipe this is it!  Enjoy!
Ingredients:
2 lbs thinly sliced beef or chicken (preferably organic)
3 tablespoons organic, unrefined, extra virgin coconut oil
1 onion sliced thin
2 cloves garlic minced
2 tablespoons minced ginger (use fresh not powder)
1 red pepper sliced thin
1/2 green pepper sliced thin
2 stalks celery chopped in 1/2 inch pieces
1 cup thinly sliced red cabbage
1 container sliced mushrooms
Organic tamari to taste (gluten-free soy sauce alternative with less sodium)
Cracked pepper to taste
1 cup prepared gluten-free quinoa, rinsed in a fine mesh strainer  (follow directions on box)
Directions:
I like to make the quinoa at the same time, but you can make it in advance and just keep it covered in your pot.  Don't skip the rinsing of your quinoa, it's important.  Follow the directions on the box. I like to add about a teaspoon of Celtic sea salt and a little fresh ground pepper to the water.  If you have too much water left after the quinoa is cooked just drain it from the pot.
Heat up your wok or large skillet and add coconut oil.  Coconut oil is great for high heat cooking.  Stay away from processed vegetable oils like corn or canola. Add the beef, or chicken and cook on medium-high to high heat.  When the meat is no longer pink take it out of the pan and put on a separate dish.  Add more coconut oil if needed to start to stir-fry the vegetables.  Add onions first, cook for a couple minutes.  Add garlic and ginger.  Cook for about 2-3 minutes, stirring often.  Add all other vegetables, tamari and cracked pepper. If you want a bit of spice add the cracked pepper now.  Be careful, it get's spicy quick!  A couple shakes may be all you need 🙂  Stir vegetables until soft, I like mine a little firmer so I only cook about 5 minutes or so.  Spoon some quinoa in a bowl and top it with your amazing stir-fry creation!
Add your favorite veggies and change it up each time to find your favorite.  Leftovers the next day taste great, I like to heat it up on low in a small covered skillet.  I never use a microwave, I don't even own one!  Sometimes old fashioned is better for us!  Stay healthy friends!  Comments welcome.
Elissa XOXO