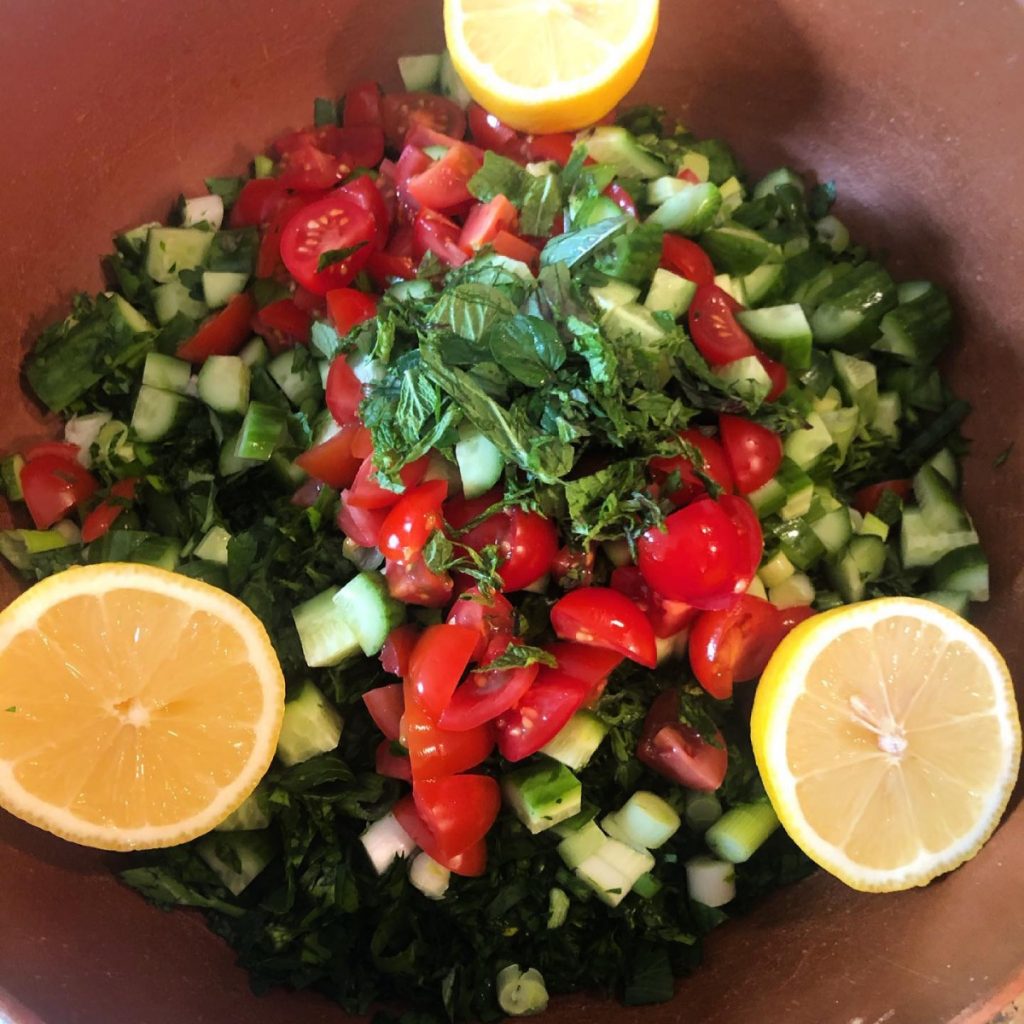 Fresh squeezed lemon juice, good olive oil and fresh mint from the garden bring back memories from my childhood.  We never used bottled dressing and we always had fresh salads.  I am so grateful for this!  I use any fresh greens that I have.  It could be dandelion greens, romaine, mixed greens, baby spinach or a mix.  I love using my salad spinner to wash the greens and then add all the other wonderful veggies and herbs.
If you are making it for a few people mix it all with the dressing.  If you are preparing ahead just for yourself mix only what you need and cover the rest without the dressing in the fridge.  It will last a few days this way.  There's nothing like a healthy salad waiting in the fridge for lunch or dinner!  Top it with grilled chicken or a sliced hard-boiled or pouched egg, salmon or even sliced avocado for a bit of protein and you have a  healthy, very satisfying meal 🙂
Ingredients:
2-3 cups of washed and chopped greens
3 scallions chopped
3 baby cucumbers chopped
2 handfuls of good grape or cherry tomatoes chopped  (if tomatoes are in season use 1 big one)
1/2 red pepper chopped
1 small handful  flat leaf parsley chopped small
1 small handful fresh mint leaves chopped small
2-3 fresh lemons juiced.  Never use bottled!
Olive oil to taste, 1/8 cup approximate.  (I never measure, and I don't skimp on olive oil!)
Celtic sea salt to taste
Fresh cracked pepper.  Just a couple turns of the grinder, not to much.  (use fresh and grind yourself)
Directions:
I chop my greens first and add them to a large bowl.  Make sure the bowl is big enough so you have enough room to toss it with your hands.  YES your hands.
Then add all other chopped veggies and herbs.  Squeeze your lemons into a bowl and wait until right before serving to mix the salad all together.  It does get soggy after a few hours after mixing.  When you are ready to eat, add the lemon, olive oil, salt and cracked pepper right in the bowl.  Start slow with the lemon and salt you can always add more to taste after tossing.  Mix well with your hands and taste to see if you need to add more lemon or salt.  So easy!
I love lemon but when I am making it for guests I usually add a little less than my liking 🙂  Not everyone loves lemon so much!
Store mixed salad covered in the fridge.  It will be a bit soggy the next day but I like it this way as well!  Remember you can also save 1/2 of the salad for a few days in the fridge without the dressing and mix it before you are ready for another deliciously awesome salad!  I hope you try this healthy salad for yourself and your family!  Here's to health!
Elissa XOXO
*Tip:  Always use fresh lemon, never bottled
*Tip:  Fresh cracked pepper is always better, never use old spices!
*Tip:  Celtic or Himalayan salt has more minerals and are not processed like regular salt.  I like the taste better also!