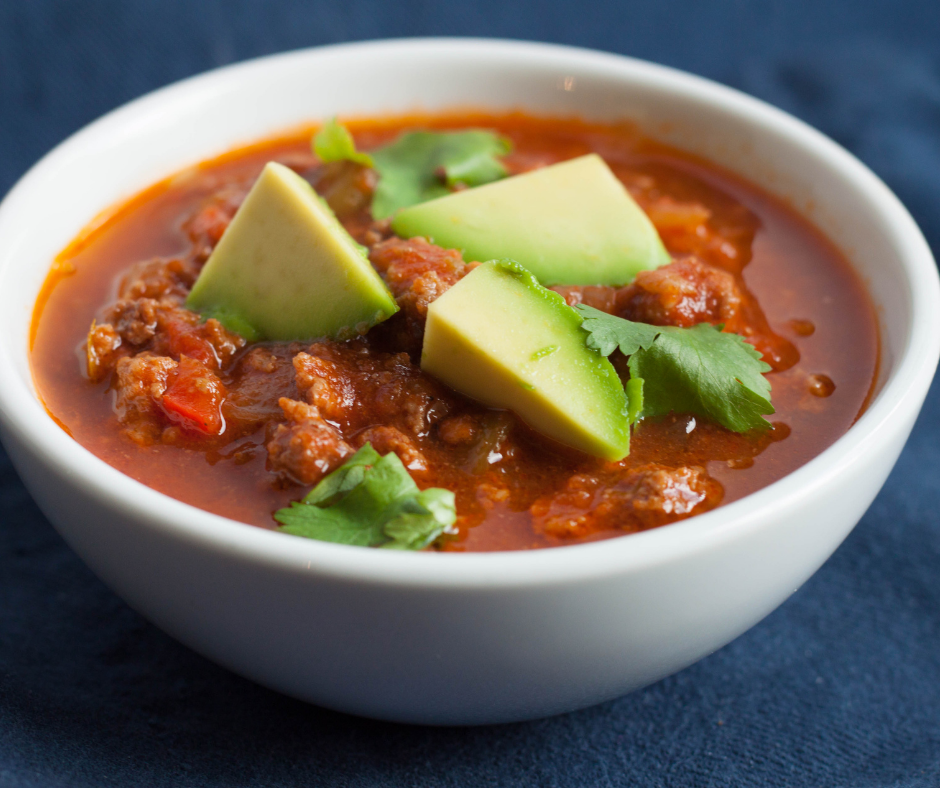 Every Halloween my Mom made chili.  It seems to be a tradition with many families 🙂  Of course I had to tweak and come up with my own healthier version.   I love to make veggie chilis, but if you like traditional beef chili  this one is yummy.  I wanted to make  a healthier option so I bought grass-fed beef and made it a little less thick.  Very filling and pretty darn healthy for beef chili.  Heat up the next day and it is even better 🙂  Add healthy toppings before serving. Chopped onions, avocado and cilantro are a must try!  Of course you can spice it up to your liking!  Enjoy!
Ingredients:
2 pounds grass-fed beef
3 tablespoons coconut oil
1 large onion chopped small
5 garlic cloves minced
2 cans diced tomatoes (I try to find no salt and use my own celtic sea salt)
1 can organic pinto beans (rinsed)
1/2 green pepper chopped small
1 jalapeno chopped very fine
2 tablespoons chili powder
2 tablespoons cumin
1 teaspoon cumin seed
Celtic sea salt to taste
Fresh cracked pepper to taste
Optional garnish: Chopped onion, chopped fresh cilantro, chopped avocado, chopped tomato, sour cream .
Directions:
Heat coconut oil on medium high heat.  Add meat and brown until no longer pink.  Add chopped onion and stir about 3 minutes.  Add garlic, green pepper, jalapeño and spices.  Stir together about 2 minutes. Add beans and tomatoes.  When chili begins to simmer lower the heat right away.  Taste for salt and adjust as needed.  Cover and simmer on low 30-40 minutes. Easy, quick and healthy!  Top with your favorite garnishes 🙂  Bon appetit!
Elissa XOXO