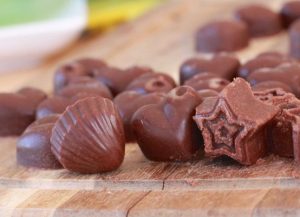 Ladies….craving chocolate??  How about a satisfying treat full of healthy ingredients and no sugar!  All natural yummy!!
Ingredients:
silicone molds  (lots of nice ones on amazon)
1 cup organic coconut oil
1/4 cup cacao ( raw chocolate)
3 Tbs raw honey
1 tsp vanilla
dash of celtic sea salt
Add all to small food processor, process well and spoon into molds. Put in freezer for about 30 minutes. Pop them out and keep in airtight container in freezer.  You can also store them in the refrigerator, but they will melt if left out.  Very satisfying snack, full of good fat and healthy raw cacao!  Many fun recipes online, Keto bombs!!  
Guarantee you will LOVE them….try making them with your kids, the silicone molds are fun!
Let me know what you think,
XOXOX Elissa
** Love mint and chocolate or orange and chocolate?  Add a couple drops of  Young Living vitality line oils, safe to ingest, amazing flavor, and pure!  Check out my essential oils page for info on ordering!
*** UPDATE:  Some recipes online have you melt the coconut oil on the stove and add all together on stovetop.  I did not think these came out as good!  You can melt your coconut oil a bit to soften it if it is hard, then mix all in your food processor and then pour into molds.  Mine was like a thick liquid when I poured it. Not a thin liquid. ****