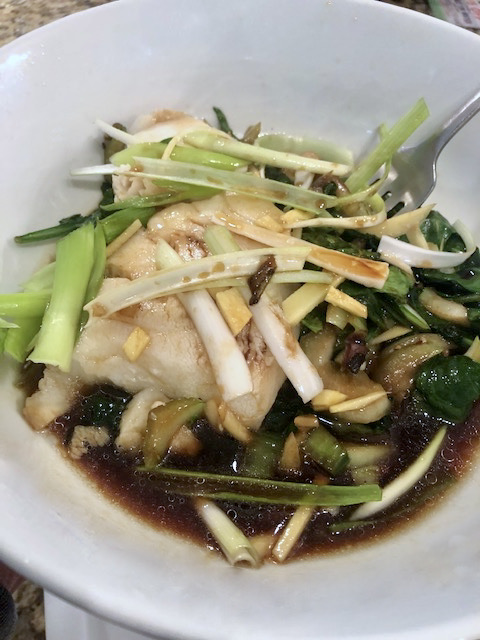 I have had this dish out and loved it so I decided to try to make it at home.  It is a treat as I don't buy this fish often!  It's pretty expensive.  Great for a special occasion dinner!  I got out my steamer and wow I was so impressed at how easy and amazing this recipe is. I don't cook much with soy but when I do I like Tamari over regular soy sauce. It is from miso and used more in Japanese cooking then soy sauce, which is the Chinese form you may be use to seeing.  I  use organic gluten-free Tamari. I find it richer tasting and less salty.
I also used a bamboo steamer basket that I love.  I just put a couple inches of water in my wok and set the steamer in the wok.  Be careful if you use a pan, that it is large enough that the bamboo steamer basket is not touching the sides of the pot.  Also, the water should not touch the food in the basket, the fish will gently be cooked by the steam.
I hope you try this recipe and enjoy it as much as I did!  Comments welcome!
Ingredients:
1-2 pieces of Sea Bass (size optional I cut about 4 oz pieces)
2 inch piece of fresh ginger. 1/2 thinly sliced and the other 1/2 chopped small. Don't use the jar or powdered type.
3 green onions sliced (not chopped, see pic)
2 tablespoon of sesame oil plus a little more to drizzle
1 big handful of baby spinach
1 small head of bok choy washed well and sliced (I use green and white parts)
1 tablespoon raw honey or a teaspoon sugar
3 tablespoons of gluten-free tamari or more to liking
Directions:
So to be honest I hardly ever measure when I am inventing a recipe. Then, I hope I can remember measurements later to share with others.  This was one of them.
Add your oil on medium high heat in a large pan.
Add the 1/2 ginger that is chopped small and stir-fry about 2 minutes. (the other thin sliced 1/2 is to top the fish)
Add bok choy and stir-fry about 2 minutes.  Next add spinach  and a little bit of the tamari.  Stir fry about 3-5 minutes until bok choy is perfect. I like it crunchy not mushy. Set aside and keep warm.
Put your fish in the steamer basket and set it in a wok with 2 inches of water.  Heat till water boils on a  medium simmer and time for 7-9 minutes depending on the thickness the fish. When it flakes it is done. Turn off the burner.
** Be careful steam can burn your skin!
Next dish your veggies into separate bowls and top with the fish.  Put the rest of the ginger and scallions on top of the fish.
Take out the steamer basket and there should be a small amount of water left in the wok. Add the honey (or sugar) and 2 tablespoons or so of tamari and a drizzle of sesame oil.  Heat sauce and pour a bit over each piece of fish, on top of the scallions and ginger.
No need for rice here!  Healthy fish and veggies with a wonderfully light and flavorful sauce.  This one is a winner!  Yum!
Elissa XOXO
Note: Make sure you have enough water, but not too much that it touches the food in the basket. See my picture below.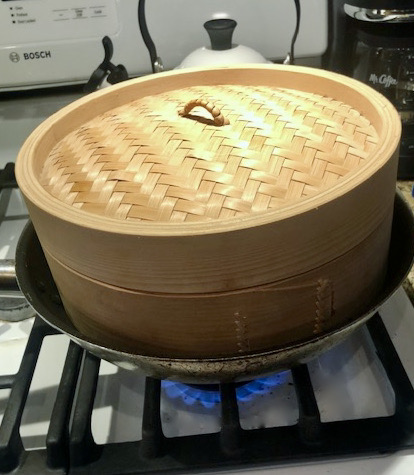 Steamer basket with the fish. Only about 2 inches of water in the bottom.