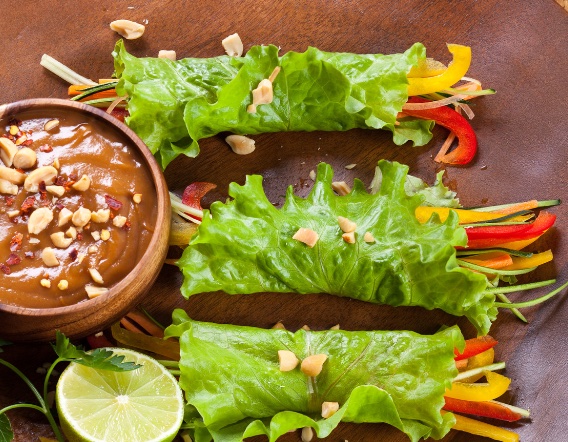 Perfectly roasted chicken, crispy fresh lettuce and amazing flavorful peanut sauce makes this lettuce wrap a huge hit! I originally made this sauce for my Spiralized Zucchini Salad and I liked it so much I started using it on these chicken wraps! Sliced peppers add to the crunch, so delicious!  This recipe makes a lot so you can cut the ingredients in half if you'd like.
I like to roast my own chicken, but of course you can use left-overs or rotisserie if you'd like. If you want to roast your own try my recipe here:  https://www.elissasfitness.com/perfectly-simple-roasted-chicken/
You can use greens of your choice.  Some of my favorites are leafy greens, collard green leaves and romaine.
Ingredients:
Roasted chicken shredded
Thinly sliced peppers, red, yellow or green
Chopped peanuts for garnish (optional)
Some good green leaves washed. Romaine, green leafy or collard greens (trim stem a bit on these)
The Sauce:
1/3 cup natural peanut butter
1 garlic clove minced
3 tablespoons lime juice (fresh not bottled)
3 tablespoons honey
2 tablespoons tamari (or organic soy sauce)
2 tablespoons rice wine vinegar
1 tablespoon siracha ( I use chili garlic sauce with the rooster on it)
2 tablespoons sesame oil
2 tablespoons water
couple twists of fresh cracked pepper
celtic sea salt to taste
chopped peanuts for garnish (optional)
Make sure the leaves are dry and add the sauce to the lettuce, then add the chicken and veggies.  Wrap and enjoy!  That's it!  If you'd like you can also coat the shredded chicken with the peanut sauce first.  You can add more veggies or even add fish instead of chicken.  Skip the bread and grab the greens! You won't miss it!
Elissa XOXO