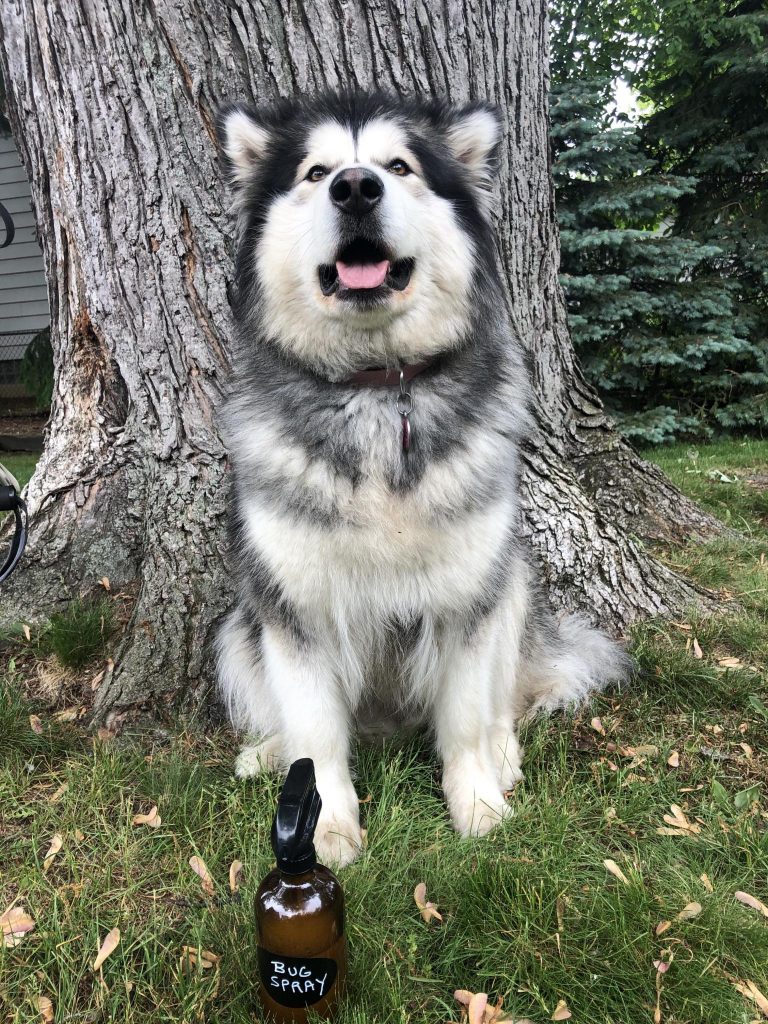 Mosquitoes hate eucalyptus! Ticks hate geranium!
Tallulah is posing with the natural spray we make a couple times a year.  No chemicals on me Mom!
I've use it as a tick and flea repellent for many years. I just hate the idea of putting any sort of toxic, chemical flea treatment on my dogs.  I post this recipe a couple times a year because I am so concerned about these chemicals we use on our animals. Please read about these dangerous pesticides that we put on our pets. Whether collars, liquid on the skin, or chewables, they are pesticides. Do your research, you will see.
What about your kids touching these chemicals?  There are warnings about not touching human skin.  There is something unsettling about putting a chemical that has a warning to not let it come into contact with human skin, on my animals! I can't.
I use this spray on myself and my dogs. All Young Living Oils:

Get an 8 oz spray bottle and fill with purified water.
Add the following essential oils:
15 drops of Eucalyptus
15 drops of Cedarwood
15 drops of Purification
15 drops of Geranium.
Shake it up and mist lightly on your dogs coat before heading outside. Obviously keep away from eyes. More information on essential oils on my website..
Essential Oils.

Health and wellness, to me,  is about people and our pets.  I hope you join me on a chemical-free journey for your furry family too!
Elissa XOXO