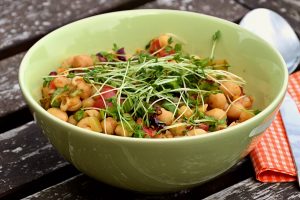 Summer time is the perfect time for fresh basil!  I love to grow a big planter of basil and use it in salads, fresh is so much better!  Try my bean salad below and let me know what you think!  Slice up some avocado or add some chicken or salmon,  it makes an amazing summer dinner. Enjoy!!
Ingredients:
1 Can Organic Chick Peas (Garbanzo Beans)
1 Can Organic White Beans
1 Can Kidney or Pinto Beans
3 Handfuls Parsley ( Chop small)
3 Scallions ( Green Onion, Chop Small)
1/2 Red Onion (Diced Small)
3 Stalks Celery ( Chop Small)
1 Red Pepper ( Chopped Small)
1/2 Green Pepper (Chopped Small)
Fresh Basil Leaves ( 10 or so, Chopped)
1/4 Cup of Olive Oil, or to taste
3-4 Lemons Juiced, to taste also
Celtic or Himilayan Sea Salt ( To Taste, I use alot, 1-1 1/2 Tbs or so,

 

beans are bland and these types of Sea Salt are good for you)
Fresh Cracked Pepper ( to taste)
Instructions:
Rinse Beans in colander and set in large bowl.   Add all chopped vegetables to beans. Add lemon juice, salt, pepper and olive oil to taste. Mix well with hands.
** Use any Veggies you like
** Really good on top of chopped arugula
** Perfect dinner with arugula, bean salad, and chicken on top.